Sophie Turner: 'Game of Thrones' Season 8 Premieres in 2019
The final season of HBO's 'Game of Thrones' has a premiere year.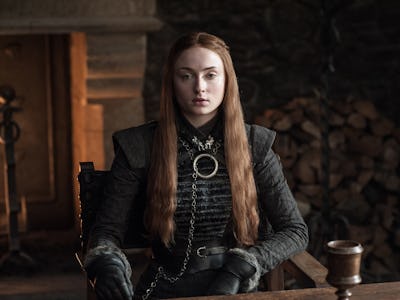 HBO
The final battles to determine who will sit on the Iron Throne of Westeros will undoubtedly be some of the deadliest in Game of Thrones history. Those battles are also painfully far away. Sansa Stark actress Sophie Turner recently revealed when fans can expect the final season of Game of Thrones to premiere.
Don't hold your breath.
While speaking with Variety in an interview published Wednesday, Turner noted how excited she is for her upcoming projects, which include the final season of Game of Thrones and the next X-Men film, X-Men: Dark Phoenix.
"Game of Thrones comes out in 2019. Dark Phoenix is in November," Turner clarified when asked about titles premiering in 2018. "Then I have a couple indie movies coming out. I'm a producer on my next movie [Girl Who Fell From the Sky]. So I'm really excited about the future."
While there's quite a bit to say about Dark Phoenix and Turner's role as uber-powerful telepath Jean Grey, that Game of Thrones date is where we're gonna focus.
Until now, HBO has been pretty wishy-washy on a GoT Season 8 premiere date. Reports have swung wildly across both 2018 and 2019. Turner's supposed confirmation that fans might have to wait almost two years between the penultimate and final seasons of the hit show (as the Season 7 finale premiered in August 2017) might come as a disappointment for some.
But at least there's finally an answer.
Turner's character has a bit of a rough go of it throughout Game of Thrones. She's been held hostage by her father's murderers, forced to marry several men against her will, and, all the while, hardened herself into a keen manipulator.
Sansa Stark is playing the game better than most. She is not to be fucked with.
And while many GoT fans disagree over Sansa's place in Westeros, everyone can probably agree that we owe Turner a debt of gratitude for giving us a straight answer.
Game of Thrones Season 8 premieres on HBO in 2019 (though we're still waiting from official confirmation from HBO that this is the correct year).