Watch the Tesla Semi Prototype Quietly Glide Down the Street
The truck is set to hit the streets in 2019.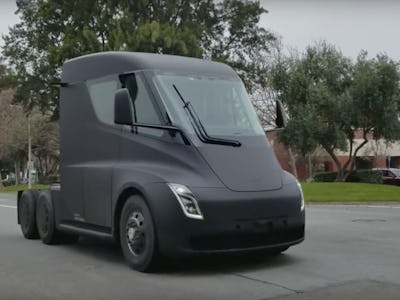 YouTube/Brandon Camargo
The Tesla Semi all-electric truck is coming, but you probably won't hear it. Elon Musk's venture into the trucking industry isn't set to hit the streets until 2019 at the earliest, but footage uploaded Wednesday shows the vehicle gliding down the streets on a test drive.
The vehicle, spotted in YouTube footage uploaded by Brandon Camargo, shows a block model of the truck driving past the UPS Customer Center in Sunnyvale, California, a 20-minute drive from Tesla's headquarters in Palo Alto. In the seven-second video, the Semi drives past with barely a whisper, swiftly passing through the intersection.
When Musk took the wraps off the truck at a November 2017 event, it defied expectations. Prior to the reveal, hydrogen truck rival Nikola described rumored plans as "bad for Tesla's balance sheet," and two researchers from Carnegie Mellon University said the truck would have limited range. The Semi beat the odds, with a 500-mile model retailing for $180,000 with a 0 to 60 miles per hour time of just five seconds.
Watch the truck in action here:
Some of Tesla's bigger promises depend on infrastructure, though. The company plans a numebr of megacharger stations to recharge the vehicle within half an hour, with sunlight-powered stations placed every 400 miles in the United States. It's a tall order, but Tesla has already persuaded big names like DHL and Wal-Mart to sign up for vehicle tests.
Tesla has a habit of testing pre-release models of vehicles in the area around its headquarters. Prior to the Tesla Model 3 entering production in July 2017, the $35,000 entry-level sedan was spotted numerous times, revealing a number of colors for the upcoming car as well as giving viewers a sense of the instant speed as it pulled away at intersections. At the reveal event, Tesla confirmed speeds of 0-60 miles per hour in 5.1 seconds.