Everything We Know About Tesla's Semi Truck
It's due to be revealed this month.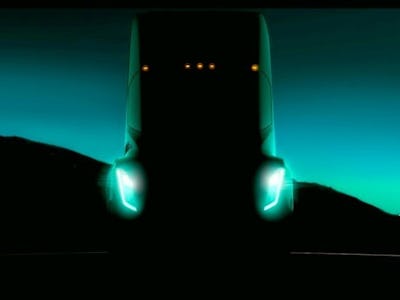 Tesla
Elon Musk wants to revolutionize the trucking industry. The Tesla CEO has overseen the launch of four electric vehicles, each of which has gradually brought the technology to a mass consumer market, but later this year the company will take a decisive step toward applying this same strategy to commercial transportation.
A Tesla Semi truck sounds impressive, but there's plenty of skepticism around the idea. Two researchers from Carnegie Mellon University said in June that such a vehicle would have low range, high price, and little space for cargo.
"The challenge is on par in difficulty level with electric airplanes," Venkat Viswanathan, a co-author of the study, told Wired.
All eyes are on Tesla and Musk to see whether they can pull it off. Here's what we know about the vehicle so far:
It will launch in September
Musk told shareholders at the company's annual meeting in June that Tesla will unveil a prototype of the vehicle at the end of this month.
"A lot of people don't think you can do a heavy-duty, long-range truck that's electric, but we are confident that this can be done," he said. "So we'll be showing off a working prototype not too long from now, at the end of September."
It will hit the roads in 2019
At the same meeting, Musk gave an indication of when the vehicle may hit the road.
"We will probably reach scale production on the semi in about two years," he said. "Maybe 18 months, but probably about two years."
It sounds like a long timespan, but it's par for the course when it comes to Tesla. The Model 3, which entered production in June, was originally outlined in the company's 2006 master plan, and the final name for the vehicle was announced in July 2014.
It will be built with autonomy in mind
Tesla's ultimate goal is to eliminate the driver from the equation. During his talk at the TED 2017 conference in Vancouver, Musk outlined a vision where truck drivers transition into a "fleet manager" role, overseeing a number of vehicles instead of just driving one.
This vision faces roadblocks, though. The state of California prohibits heavy autonomous vehicles over 10,000 pounds for testing purposes, a ban Tesla wants lifted.
It will use a lot of Tesla Model 3 components
During the company's first-quarter 2017 earnings call in May, Musk told investors that the vehicle will use a number of components from the Model 3.
"Most of that semi is actually made out of Model 3 parts, by the way," Musk said. "It's using a bunch of Model 3 motors. We're revealing too much about the future of it but … we're able to use a very high-volume vehicle and then combine several motors to have something that I think is actually going to have a very good gross margin."
This is important because Tesla is ramping up Model 3 production to meet a rate of 10,000 cars per week sometime in 2018. Using the same components could help simplify the semi truck production. It's the sort of manufacturing technique that would not be possible with a traditional truck, and could give Tesla an advantage.
It will drive like a sports car
Because of its Model 3-centric design, it will handle rather differently to a regular truck. Musk, who has driven a prototype for a test spin around a parking lot, said at his TED talk that its single speed design means it handles more like a regular car.
"This will be a very spry truck," he said. "You can drive it around like a sports car."
It will save the planet
Perhaps unsurprisingly, Musk thinks the semi truck will be good for the environment. In the May earnings call, he said the vehicle will save ten times as much on hydrocarbon emissions than the pickup truck.
"In fact I'm highly confident that all transport will go fully electric [with] the ironic exception of rockets," he said, referring to his SpaceX space exploration company.
It will have a range of between 200 and 300 miles
A report from Reuters last month claimed that Tesla is targeting a range of around 200 and 300 miles, covering the low end of long-haul trucking requirements. Some conventional diesel trucks can run as far as 1,000 miles on a single tank of gas, though, meaning it could be a tough sell.
We don't know what it looks like
Only a single silhouetted teaser image has been released of the truck. A few enterprising graphic designers have imagined it, but we won't know for sure what it will look like until Tesla reveals the design.
If you enjoyed this article, check out this video about Tesla solar panels on the island of T'au.