How Bitcoin, Ripple and Other Cryptocurrencies Are Surging After Two-Day Slump
BitConnect also made gains, despite the exchange's closure.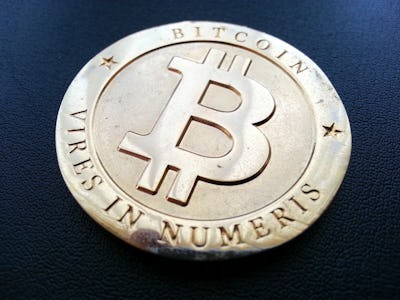 Flickr / zcopley
Don't call it a comeback. No sooner had commentators declared the cryptocurrency boom well and truly over, with severe losses on Tuesday and Wednesday, the market made gains over the space of 24 hours to show results on Thursday morning.
CoinMarketCap, which measures the 100 largest cryptocurrencies, reported gains for 98 tokens over the past 24 hours at 7 a.m. Eastern time. Bitcoin jumped 13 percent to reach $11,657, while Ripple jumped a staggering 43 percent to reach $1.52. The two highest performers, BitConnect and Tron, jumped 284 percent and 99 percent respectively.
Despite the jump, it's a far cry from the heady days of mid-December, when Bitcoin reached $19,753 on December 17. The world's largest cryptocurrency, first outlined in a 2008 white paper by Satoshi Nakamoto, introduced a number of groundbreaking ideas like the blockchain ledger for securely distributing data. Analysts believe that even if Bitcoin itself slides further, the technologies it pioneered will remain in use and continue to prove their worth.
BitConnect's jump is perhaps the most surprising. The token is connected to a controversial cryptocurrency exchange that closed on Tuesday. BitConnect was riddled with allegations that its business, where users would loan cryptocurrency to the exchange to make big returns depending on the length of loan, was essentially a Ponzi scheme. The token that powered the exchange, BCC, dropped from a January 7 high of $431.79 down to $5.78 on Wednesday, before jumping to a high of $77.48 on Thursday.
"What is wrong with people?" said Reddit user "Sp1nmill" in the cryptocurrency subreddit, lamenting BitConnect's gains.
Just two tokens reported drops over the period. Neblio, with a market cap of $360 million, dropped 2.8 percent to $28.33. Tether, with a market cap of $1.6 billion, dropped one percent to $1.01 per token. It's important to note that Tether also bucked the trend during the slump, when it was one of only two cryptocurrencies to rise in value on Tuesday.
Hi there. You've made it to the bottom of this story! Speaking of which… we're giving away an epic $5,000 ski trip to Banff, Alberta. Click here to enter! ⛷