DC's 'Doomsday Clock' Reveals a New Rorschach Who Adds Diversity
He's back. Here's what it means.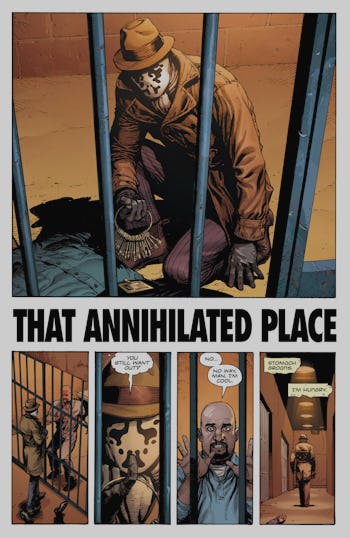 DC Comics
The end is nigh in the DC Universe. On Wednesday, the very first issue to Doomsday Clock, DC's sequel to Alan Moore's 1986 series Watchmen written by Geoff Johns, was released. And from the get-go, Doomsday Clock wastes no time making a big change to one of the original book's most famous characters.
Spoilers for Doomsday Clock #1 ahead.
Back at New York Comic Con in October, DC and Geoff Johns shocked fans by revealing the return of Rorschach, everyone's favorite truther-in-a-trench coat, in the first six pages of Doomsday Clock. It was a big deal, since Rorschach was killed by Doctor Manhattan at the end of Watchmen. So how could Rorschach be alive in Doomsday Clock, which takes place seven years after the original?
As Doomsday Clock #1 reveals, there's a new Rorschach. A black man has taken up the mask, hat, and mantle of Rorschach. The original Rorschach was Walter Kovachs, an unassuming white man with red hair and a troubled past that led him to become a ruthless crime-fighter and investigator.
Set in 1992, years after Adrian Veidt/Ozymandias changed the world forever, chaos continues to engulf the world. In a montage sequence, Doomsday Clock paints a grim picture of late 20th-century Earth: The European Union has collapsed, Russia is invading Poland, the American Vice President has assassinated the Attorney General, North Korea's nuclear arsenal is capable of hitting Texas, and the U.S. President has broken his previous golf record. (Yeah, Doomsday Clock is anything but subtle.)
There's also a new Rorschach in town. As the United States prepares to launch "the full force" of its "military might," according to the new state-run news reports, the new Rorschach breaks into a prison to recruit two new characters to the Watchmen mythos: Erika Manson, a.k.a. "The Marionette," and her mute husband Marcos Maez, a.k.a. "The Mime."
Marionette and Mime, who are in search of their missing son, were two villains in the old days who squared off with Walter Kovachs, the original Rorschach.
As Marionette protests working with Rorschach, Rorschach takes off his glove, revealing his black skin, confirming he's not Kovachs but someone else. "You're out of your goddamn mind dressing like that," she tells him. She's not wrong.
A New Rorschach Matters
While there will inevitably be readers angry that Rorschach isn't back after all, the change not only makes logical sense, but also adds new dimensions to Rorschach, and what he represents. Aside from the welcome diversity, the change allows Watchmen to participate in what's become tradition in mainstream superhero comics.
Heroic identities are hardly kept exclusive, with characters like Green Lantern, Kid Flash, Iron Man, and more being inherited by women and people of color. As the world of Watchmen collides with the DC Universe in Doomsday Clock, a black man taking up Rorschach's mantle is a symbolic bridge between the two seemingly disparate continuities.
Doomsday Clock #1 ends before more about New Rorschach is revealed, though his penchant for pancakes is well established and will undoubtedly become his signature. But as for the rest of the Watchmen, Daniel, the second Nite Owl, has "retired" (presumably Laurel/Silk Spectre II as well, though no one mentions her), while Jon, a.k.a. Doctor Manhattan, hasn't been seen in years. But New Rorschach is working with Ozymandias — who has a new baby Bubastis —who has fallen as a fugitive with a significant bounty on his head.
Together, these four will reluctantly combine forces in a story that will somehow also feature the heroes of the core DC Universe. Doomsday Clock #1 ends with Clark Kent, sleeping next to Lois Lane, who wakes up from a nightmare. "I can't remember the last time you had a nightmare," Lois tells him. He replies: "I don't think I've ever had one."
The countdown to doomsday has just begun.
Doomsday Clock #1 is out now.