How DC's Impossible 'Doomsday Clock' Became a Crazy Reality
DC co-publishers Jim Lee and Dan DiDio lift the hood to the most anticipated comics event of 2017.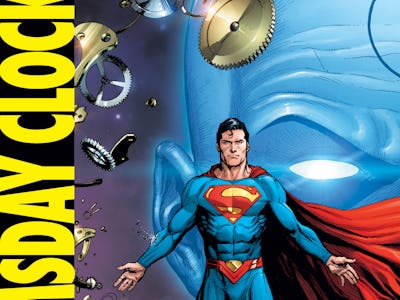 DC Comics
In 1986, towards the end of the Cold War, DC Comics published Watchmen, the groundbreaking graphic novel about aging ex-superheroes who stumble upon a conspiracy on the eve of nuclear holocaust. Twenty-nine years and one movie later, DC is finally releasing a sequel, Doomsday Clock, in which the characters of Watchmen collide with the mainstream "DC Universe," the home to Batman, Superman, and the Justice League. This kind of crossover would have been unthinkable in 1986. But today, it's really happening.
Set to release on November 22, Doomsday Clock by Geoff Johns and artist Gary Frank will take place seven years after the original by Alan Moore and Dave Gibbons. But while it's still in the past, Doomsday Clock appropriates today's hellish political landscape; in the first six pages previewed at New York Comic Con, an absent U.S. president is hitting the links while the country plummets into chaos. "Deplorables" take the streets, and independent journalism is shuttered in favor of propagandic, state-run cable news.
In many ways, Doomsday Clock will try to live up to the spirit of its successor with obvious, but pointed, political satire. But as DC co-publishers Jim Lee and Dan DiDio tell me at New York Comic Con last week, conversations were still had about how to approach the sequel to a comic long believed should be left untouched.
"This is a conversation we've been having for awhile," DiDio tells Inverse. "The origins of Doomsday Clock go back to Watchmen. It's never been out of print, sold millions of copies. There's been real interest in those characters. There's a reticence to do anything that follows [it]."
Two things changed everyone's minds at DC, DiDio says. The first was Geoff Johns, a DC mainstay writer who has gone on to produce TV and movies including Wonder Woman and the upcoming Justice League. The second was that DC internally had already endured the hard conversations of revisiting its most sacred texts when it did Before Watchmen back in 2012.
"Geoff Johns had a story on how to cross the teams, to bring Watchmen together with the DCU. He had a strong story and an idea," says DiDio. He also mentions Gary Frank, "the only artist that could really execute it in the style that would feel satisfactory" to fans of the original. "But it comes down to story. It would not have been done if we did not have a story worthy of crossing over these two worlds."
In 2012, DC published Before Watchmen, a prequel that explored the beginnings of the main Watchmen characters. Despite harsh critical reception, Before Watchmen allowed Doomsday Clock to happen. The offense of committing sacrilege was in the rearview.
"We did Before Watchmen back in the day and I think that broke the ice," says Jim Lee. "Whatever discussions we had were had at that point. That in some ways cleared the path for us."
"The level of angst was palpable," DiDio recalls. "We're not seeing nearly the same concerns as we did during Before Watchmen. We're proud of that material but this [Doomsday Clock], we feel, is really strong."
That story of Doomsday Clock, as far as fans know, takes place in 1992 with the world on the brink of another nuclear threat. Somehow, the characters of Watchmen will cross paths with the heroes of DC, like Batman and Superman, who inhabit an entirely different universe.
Doomsday Clock truly began rolling within the pages of DC Universe" Rebirth #1, a one-shot comic published last summer that ushered in DC's big reset, Rebirth. Borrowing its title from Green Lantern Rebirth in which Geoff Johns restored the Green Lantern to his original form, the heads at DC used Rebirth to bring the heroes of DC back to their purest essence.
"Rebirth had a meaning," DiDio says. "We built what it stood for: Returning to the core conceits in respect to the characters. In this case it was a full universe rather than individual characters."
In its deconstruction of superheroic monolithic myths, Watchmen imagined a very real, very grimy world where damaged people wore costumes to fight crime. Almost three decades later, the sequel is on the horizon. While Watchmen was a dark, grim book, DC is promising something different.
"To me the tone is surprising," Lee says. "If people think it's gonna be a tale where there's a lot of misunderstanding at the beginning, Watchmen fight the DC characters and they realize they have a common foe and band together, this is not that story. You're going to be surprised."
Doomsday Clock #1 of 12 will be released on November 22.