A Major 'Watchmen' Character Returns in DC's 'Doomsday Clock'
Read the First Six Pages Here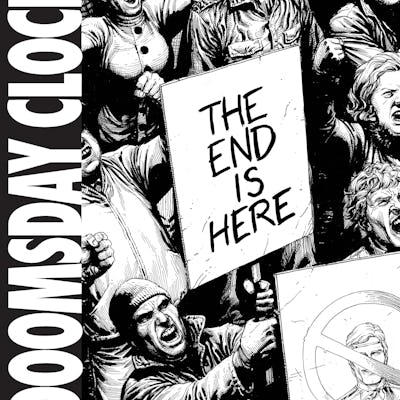 The end is here. At an explosive panel Friday night at New York Comic Con 2017, DC Comics unveiled the first six pages of its upcoming event crossover, Doomsday Clock #1, the first of twelve issues which will be released on November 22. And within those six pages, a major character from Watchmen makes his surprise return.
Written by Geoff Johns and illustrated by Gary Frank, Doomsday Clock #1 begins in 1992, a few years after Alan Moore's 1988 series Watchmen, which ended with Ozymandias unleashing a monster in New York City to prevent nuclear war. Now, nukes have been launched anyway, and the world has just a few hours before the end. That's a very familiar anti-hero appears inside a prison within the blast zone stealing keys from a prison guard.
See the first six uncolored pages of Doomsday Clock to discover exactly who is back and what it means.
How Rorschach is alive is among the many mysteries that will be revealed in Doomsday Clock beyond the initial six pages. At New York Comic Con, Inverse was invited for a sneak peek at the series, and though we can't reveal everything, we can say that the book is as big as it gets. The clock is ticking, and the Watchmen are coming.
Doomsday Clock #1 will be released on November 22.