Kevin Smith Will Write 'Kick-Ass' Spin-Off Comic 'Hit-Girl'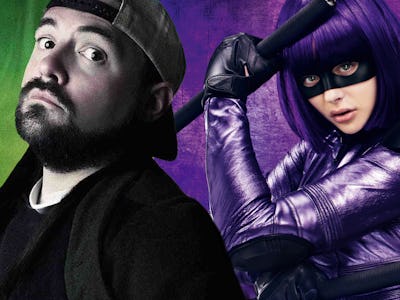 Universal Pictures, The Weinstein Company
The New Jersey filmmaker known for Clerks, directing The Flash and Supergirl, and hosting a whole bunch of podcasts is returning to comics. A new ongoing Hit-Girl monthly comic, a spin-off from Mark Millar's gritty adolescent superhero series Kick-Ass, will enlist Kevin Smith to write the second arc of the story after Millar pens the first. Hit-Girl #1, from Mark Millar and artist Ricardo Lopez Ortiz, will be released on February 21.
Announced on Tuesday, the new Hit-Girl will be a continuation of the first Hit-Girl spin-off comic published in 2013, which took place between Kick-Ass and Kick-Ass 2. In the new comic, Mindy McCready returns to crime-fighting as she ventures around the world — with a new Kick-Ass in tow — dishing out justice as a "pint-sized Punisher-meets-Polly-Pocket."
In an interview with ComicBook, Millar says new Hit-Girl will take place where Kick-Ass 3 left off, and will not cross over with the new Kick-Ass, which will also be written by Millar and star a new character in the title role. "That's entirely self contained," Millar told ComicBook, "But we pick up exactly from the last page of [Kick-Ass] 3 and the wee guy Mindy's taking on and training to be her new [Kick-Ass]. It's very fun."
Smith himself tweeted out the news on Tuesday, thanking Millar for letting him play in the "sandbox." "This miniseries is gonna be like @YogaHosers - only with way more decapitations and way less corny jokes about Canada!"
Millar has also teased other major comic book talents slated for Hit-Girl, including Jupiter's Legacy collaborator Frank Quitely, Rafael Albuquerque (Blue Beetle), Pete Milligan (Justice League Dark), and Asian artist Kim Jung Gi, who is "doing a big arc." "We're spending a lot of money and just hiring people [I'm] obsessed with," Millar said.
While Mark Millar is unquestionable as a comic book talent — he recently sold Millarworld to Netflix, which can only mean movies and TV shows based on Millar's comics are coming soon — Smith is also no rookie. Aside from an encyclopedia's worth of fanboy knowledge, Smith has written a number of comics for Marvel and DC, including Green Arrow: Quiver, Batman: Cacaphony, Batman: The Widening Gyre, Daredevil: Guardian Devil, and Batman '66 Meets the Green Hornet.
Outside comics, Millar's Kick-Ass comics have been adapted into two feature films, 2010's Kick-Ass and 2013's Kick-Ass 2, which starred Aaron Taylor-Johnson as Dave Lizewski/Kick-Ass and Chloë Grace Moretz as Hit-Girl.
Hit-Girl #1 will be released on February 21.