Here are the 18 Millarworld Comics Potentially Coming To Netflix
A primer on Mark Millar's Millarworld comics, from 'American Jesus' to 'Superior.'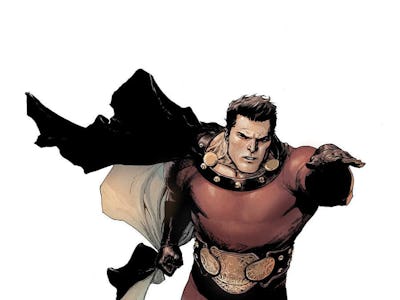 Marvel Comics
On Monday morning, streaming giant Netflix announced it acquired Millarworld, the comic book publisher belonging to writer Mark Millar. Although the Scottish author has done work for the Big Two, including DC's Superman: Red Son and Swamp Thing and Marvel's Old Man Logan, Millarworld publishes Millar's original, creator-owned comics including Kick-Ass, Wanted, American Jesus, the recently concluded Jupiter's Legacy, and more. But what exactly are these stories and what will Netflix make with them?
First and foremost, this isn't like Netflix streaming Marvel shows. Similar to Disney's ownership of Marvel and Warner Bros. owning DC, Netflix now owns Millar's best-known works, and the company will be able to turn some of the most well-known comics of the 21st century outside Marvel and DC into franchises of their own. These means Netflix can make episodic shows, feature length movies, and animation and really play with any format they want. In the same press release, Netflix confirmed that Millar would create brand new works under the Netflix label as well.
In an enthusiastic post on his website, Millar thanked a lot of folks while revealing a bit what the next step will be. "We're flying to LA to strategise [sic] the next steps and you'll be hearing about each fascinating turn when I'm allowed to share it," wrote Millar on his website. "Jupiter's Legacy and Reborn both concluded in the last few weeks and I'm going undercover between now and spring as I stockpile all the new projects we're putting together, but you'll hear about them very soon."
Before Millar reveals what will come to Netflix first, here's a primer on all of the Millarworld comics shown in Netflix's teaser, which was posted on Twitter. And remember, Millar's promised us wholly unsee and unread works too.
American Jesus
Released in 2009, American Jesus follows an ordinary 12-year-old boy named Jodi Christianson who discovers that he is, in fact, the returning vessel of Jesus Christ. A superhero origin story unlike no other, Jodi learns to turn water into wine and let the cripple walk while possibly undoing thousands of years of history in the making.
Jupiter's Legacy and Jupiter's Circle
Imagine if the Justice League split into a Game of Thrones-esque political war. That's the gist behind 2013's Jupiter's Legacy, in which the children of the world's greatest superheroes are burdened by their aging parents' legacy and infighting, which can lead to global catastrophe. At 10 issues, it is one of Millar's longest-running series to date.
In 2015, Millar followed up with the prequel Jupiter's Circle, which explored the drama that caused the superhero team, the Union, to fracture.
Huck
In 2015, Millar released Huck, another superhero drama beautifully illustrated by Rafael Albuquerque, best known for his work on American Vampire and DC's Blue Beetle. In a small harbor town, the broad-shouldered, Huck wields special abilities which he uses to perform good deeds for his neighbors. When Huck's powers are exposed, Huck goes on the run, leading him on a collision course with the mysterious Orlov.
Chrononauts
One of Millar's shortest comics at four issues, Chrononauts tells the story of two time-travelers named Corbin Quinn and Danny Reilly, best friends and scientific geniuses who embark on man's first steps through time. It's a revolution that will be televised, Millar explores just how selfish — and selfless — two red-blooded hot heads on an adventure can be.
Empress
Released on Marvel's creator-owned Icon Comics imprint in 2016, Mark Millar riffed on classic pulp sci-fi like Flash Gordon for Empress, which follows the wife of an intergalactic dictator escape with her children on a perilous journey back to her homeworld.
Reborn
In a team-up with Batman artist Greg Capullo, 2017's Reborn is an existential sci-fi romp in which the afterlife is nothing like heaven or hell: it's a game. Riffing on adventure role-playing games like Final Fantasy and World of Warcraft, the afterlife is a swords-and-shields war that sees an elderly woman, who dies of a heart attack, reborn into her 20s on a mission to find her deceased husband. Fans of the anime Sword Art Online may be really into Millar's Reborn.
MPH
Published in 2014, MPH is about a group of hardened teenagers in Detroit who come across a new drug called "MPH," which grants them the power of super speed. Instead of doing good, the kids use the power to satisfy their own needs, and they quickly learn the price of living a fast and furious lifestyle.
Superior
In the seven-issue series Superior, Millar explores one of his signature themes — the price of power — in a tale about a wheelchair-bound boy named Simon Pooni wrestles with becoming his favorite superhero, Superior, in return for selling his soul to the devil. Things get complicated when the same demon offers a similar deal to Simon's bully, who becomes Superior's actual comic book nemesis.
Wanted
Although it was adapted into a 2008 film starring James McAvoy, Angelina Jolie, and Morgan Freeman (with Chris Pratt in a small supporting role), Timur Bekmambetov's version didn't adhere super close to Mark Millar's six-issue series from 2003.
A loser cubicle employee named Wesley Gibson learns that he is, in fact, the heir to the Fraternity, an ultra-powerful cabal of supervillains that secretly rule the world. Bearing some semblance to Fight Club such as in its themes of male disillusionment, Wanted was based off a childhood conversation Millar had with his older brother about why there are no more superheroes.
Supercrooks
In 2012, Millar re-teamed with his Superior illustrator Lenil Yu on Supercrooks, a four-issue miniseries in which a supervillain named the Heat, who is deep in debt with the mob, bands together a team to steal the riches of a supervillain who is living large in Spain. Another riff on the superhero genre with the thrill of a heist film, Supercrooks saw a fancy promotional video from director Nacho Vigalando (Colossal) when it was released.
Starlight
Combining superheroes with space operas, Starlight is Millar's 2014 adventure about a galactic swashbuckler named Duke McQueen, who comes out of retirement to answer a distress call from a faraway planet. With art from Goran Parlov, Starlight is a huge adventure perfect for sci-fi buffs.
Nemesis
Another creator-owned series published by Icon, Millar's 2010 series Nemesis was notorious for its publicized concept question: "What if Batman was the Joker?" In a team-up with Steve McNiven, Nemesis was one of Millar's more divisive titles that further added to Millar's own genre of turning the typical superhero story upside its head.