Everything We Know About the Tesla Semi Truck Before the Big Unveiling
Elon Musk is gearing up for a big launch.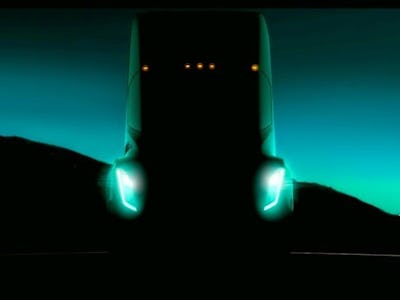 Tesla
Tesla is revving up to take on a whole new industry, with the launch of its electric truck scheduled to take place on Thursday. Company CEO Elon Musk has dropped several hints about what to expect, but much like the teaser image above that was released in April, the vehicle remains in the dark.
The company is expected to unveil the semi truck at 8 p.m. Pacific on Thursday night at the Tesla Design Studio in Hawthorne, California, southwest of Los Angeles. Here's what we know already:
Musk says it's going to blow away expectations
A report from Reuters claimed the truck would get a range of around 200 to 300 miles. That's about as good as the company's other cars, but it doesn't quite stack up when compared to traditional gas-powered trucks that can run for around 1,000 miles per refill.
However, Musk has hinted that current specifications floating around are not quite wat we'll see on the day:
It's going to use a lot of Model 3 components
During the company's first-quarter 2017 earnings call in May, Musk told investors that the vehicle would borrow heavily from the Tesla Model 3, the $35,000 vehicle that entered production in July.
"Most of that semi is actually made out of Model 3 parts, by the way," Musk said. "It's using a bunch of Model 3 motors. We're revealing too much about the future of it but … we're able to use a very high-volume vehicle and then combine several motors to have something that I think is actually going to have a very good gross margin."
It may have leaked
A photo posted last month on Reddit from user itookapicofarocket shows a Semi truck sitting on the back of another truck. The design matches the teaser image closely:
It's going to be powerful
It may not have the same range as a regular truck, but its Model 3 origins will make it a seriously powerful machine.
"With the Tesla Semi, we want to show that an electric truck can out-torque any diesel semi," Musk said at the TED 2017 conference in April. "If you had a tug-of-war competition, the Tesla Semi will tug the diesel semi uphill."
It's going to handle a sports car
Its unique design also means that it's going to feel quite different to drive around, with the single-gear design already giving an advantage over manual transmission trucks.
"This will be a very spry truck," Musk told the audience at the April talk. "You can drive it around like a sports car."
It may have a degree of autonomy
Tesla submitted a letter back in May to Brian Soublet, head general counsel to the California Department of Motor Vehicles. The company asked the organization to remove the blanket prohibition on autonomous vehicles that weigh more than 10,000 pounds. It doesn't necessarily mean that the semi will come equipped with Tesla Autopilot at launch, but as all the other vehicles the company ships right now are expected to support autonomous driving at a later date, it may not be too much of a stretch to assume Tesla is planning something similar for the truck.
Tesla has listened to the experts
It's new territory for Tesla, so the company has brought in some outside input to help understand what the industry wants out of a truck.
"We have shown it to a number of the organizations that buy heavy-duty trucking and they all love it," Musk said during the annual shareholders meeting in June. "They just want to know how many can they buy and how soon. It's like, cool and we are involving them – thank you."
InsureMyTesla could change the auto insurance industry forever. Check out this video to find out more.