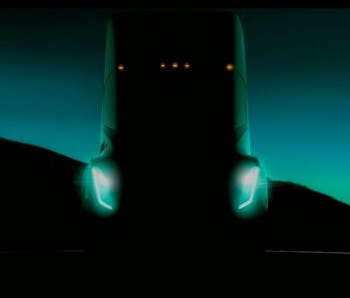 Innovation
The Tesla Semi Truck Rides "Like a Sports Car," Says Elon Musk
TED
Tesla CEO Elon Musk teased the first image of the upcoming all-electric Tesla Semi truck during a TED Talk on Friday, describing in terms usually associated with the flash and elegance of a sports car. It's really impossible to verify that's the case based on this first picture — a shadowy behemoth surrounded by darkness, save for a couple lightning-bright headlines which light up the outline of the truck's exterior. But we'll take Musk's word for it.
"This will be a very spry truck," Musk told the audience at his talk. "You can drive it around like a sports car."
Musk has already taken the prototype for a test spin around a parking lot.
"There's no gears," he said. "It's like single speed."
The truck seems to retain the characteristic headlight design seen on the Tesla Model X and Model S. If the company is truly serious about going into the world of semis, it's certainly trying to make sure keeps its identity. And it wants to turn Tesla Semi into an industry bully that can help alleviate heavy-duty trucking loads better than its competitors.
"With the Tesla Semi, we want to show that an electric truck can out torque any diesel semi," he said. "If you had a tug-of-war competition, the Tesla Semi will tug the diesel semi uphill."
Tesla will make a bigger reveal of Tesla Semi this coming September, which will be followed in the next 18 to 24 months with new details on a new electric pick-up truck model.
"It's quite bizarre test-driving," Musk said. "When I was driving the test prototype for this truck, it's really weird because you're driving around because you're so nimble and you're in this giant truck. I drove it around the parking lot. I was like, 'this is crazy.'"
Musk added that the company is looking to open up four new Gigafactory sites in the near future, and they should be announced later this year, supporting chatter brought up by Tesla's latest earnings statement.
Beyond that, Musk says Tesla's testing of it autonomous driving systems is going very well, and believes the company could have the capability to demonstrate a totally automated drive of a passenger from California to New York before the end of the year.
And there's no doubt Musk wants to see an autonomous Tesla Semi one day, although he acknowledges that's a much more difficult thing to achieve. "We want to be cautious of the autonomy features" on a truck, he cautioned.