Tesla Semi Truck Possibly Sighted, and It Looks Sleek
Elon Musk's latest project is coming to life.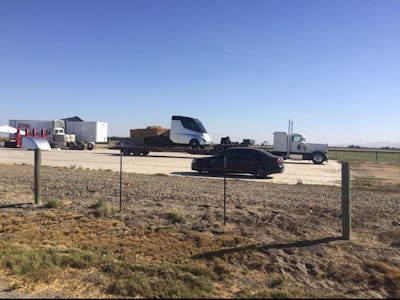 The Tesla Semi truck may have its first public outing. Less than a month away from the company's planned unveiling of its all-electric truck, a new spy shot suggests Elon Musk's project has already seen the light of day.
A post on Reddit from user itookapicofarocket shows a semi truck sat on the back of a truck. The subreddit moderators note that the user was not the original poster of the photo, but the first user deleted their submission for unknown reasons.
Musk has been gradually building up the hype around the new truck. Described as a machine made out of Model 3 components, the CEO has described it as feeling a lot like a sports car in terms of handling.
"With the Tesla Semi, we want to show that an electric truck can out-torque any diesel semi," Musk said at the TED 2017 conference in April. "If you had a tug-of-war competition, the Tesla Semi will tug the diesel semi uphill."
It's not certain whether the above shot is indeed Musk's new semi truck, but it seems to match with the teaser shot posted back in April:
The truck has been shrouded in mystery, and experts are skeptical as to whether Tesla can make a truck competitive with the big, names. Two researchers from Carnegie Mellon University described the challenge as "on par in difficulty level with electric airplanes," while a Reuters report claimed the company is aiming for between 200 and 300 miles per charge. Considering a long-range diesel truck can travel for 1,000 times on a single tank of gas, it could prove a disappointment.
Tesla is set to unveil the truck on October 26 in Hawthorne, California. The vehicle is set for a full release sometime around 2019.
If you liked this article, check out this video of a Tesla Model X that predicts a car accident before it even happens.