Trump Nominates Big Pharma Insider Alex Azar for HHS Secretary Post
'He will be a star for better healthcare and lower drug prices!'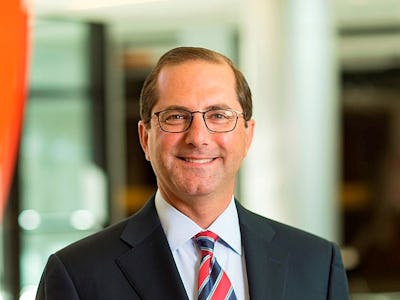 Wikimedia Commons
There's a chance that the next secretary of the Health and Human Services Department will be Alex Azar, a former pharmaceutical executive who also served as health official during the George W. Bush administration. President Donald Trump announced his nomination of Azar on Twitter Monday morning while traveling in Asia.
Tom Price, Trump's first HHS secretary, resigned in September. Price, a multimillionaire, left office after it came out that he spent over $1 million in taxpayer money while traveling on noncommercial aircraft. Eric Hargan has been working as the acting secretary since Price's departure and worked closely with Azar when they both served during the Bush administration.
Azar has spent the last decade working for the global pharmaceutical giant, Eli Lilly and Company, until he left in January to start his own consulting firm. Based in Indianapolis, Indiana, the home state of Vice President Mike Pence, Eli Lilly is the world's largest manufacturer and distributor of psychiatric medications, including Prozac.
That Trump would choose a pharmaceutical insider comes as a small surprise because of his frequent criticisms of the industry. Drug prices have been a point of contention for the President, who said during a cabinet meeting in October that "prescription drug prices are out of control."
"The drug companies, frankly, are getting away with murder, and we want to bring our prices down to what other countries are paying, at least close and let the other countries pay more," said Trump. "If you look at the same exact drug by the same exact company, made in the same exact box and sold someplace else, sometimes it's a fraction of what we pay in this country — meaning, as usual, the world is taking advantage of the United States."
While at Eli Lilly and Company, Azar ran operations for the company's international and federal government affairs and public policy. According to Politico, he also served on the board of directors for BIO, the biotech industry association. As the world's largest trade association for biotech, BIO collectively spends millions every year lobbying the federal government.
If he becomes the Secretary, one of Azar's circumstantial roles will be dismantling the Affordable Care Act, which the Trump administration has so far been unsuccessful in taking down. In May, Azar told Fox Business that the law was "certainly circling the drain" but noted in June that he liked that the ACA "gives a tremendous amount of authority to the secretary of HHS."
Now that Azar has been nominated by the president, he'll have to undergo the appointment confirmation process before he's actually granted the position. After Trump provides the Senate with his written nomination, committee hearings will commence, where Azar will be probed on his policies and plans for the HHS. When committee hearings close, the Senate will vote.
It's anticipated that Azar will do well; he's already been endorsed by former HHS secretaries, Michael Leavitt and Tommy Thompson.