'Deadpool 2' Family Unites for a Thanksgiving Dinner in New Poster
There's even a Stan Lee cameo!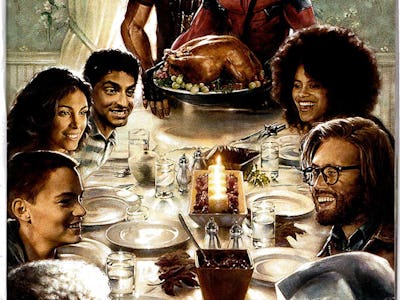 20th Century Fox
Everyone's favorite supper hero is totally ready to baste some turkey this holiday season.
That's right, we said "supper hero," because that's the silly branding Deadpool went with on the latest cover of Good Housekeeping. No, this is not a joke. (Actually, yes it's a joke, but believe it or not the cover is real.)
This latest issue of Good Housekeeping had a ton of crude jokes on the cover in line with Deadpool's sense of humor, but the issue also included the first poster for [Deadpool 2](/topic/deadpool-2), which gathers the entire Deadpool family for Thanksgiving dinner.
Deadpool himself even provided some content for the issue:
"When Good Housekeeping called and asked me to be a contributor to their holiday issue, I was completely shocked and flattered. I'm a HUUUUGE fan. It's always been a dream of mine to visit the Good Housekeeping Mansion and bathe in their infamous grotto. But unlike most men, I read Good Housekeeping for the articles."
Here's the cover, which actually seems more Christmas-focused than Thanksgiving, but who really cares:
The stacked poster presents Deadpool and Cable as the unlikely parents with cab-driver Dopinder, Vanessa, Teenage Negasonic Warhead, Blind Al, Colossus, Weasel, and Domino all seated around the table, happily awaiting the Thanksgiving feast:
Consider this only the beginning of what'll probably wind up being yet another incredible marketing campaign from the folks at 20th Century Fox for [Deadpool 2.](/topic/deadpool-2).
The first Deadpool brought in a Clio Award for Best Integrated Marketing with what he called an "industry circle jerk" of shameless and shameful self-promotion through various stunts and comical bits that shattered the Fourth Wall on more than one occasion.
Will we get a repeat of the "12 Days of Deadpool" this December? Before the release of the first movie, as Deadpool puts it, "Christmas came early … all over the internet's face" with a slew of daily Deadpool content promoting the movie months before its release.
Maybe we'll get the same or even more this time around?
Deadpool 2 is scheduled for release June 1, 2018.