Watch Deadpool Humblebrag Like an Asshole About His Award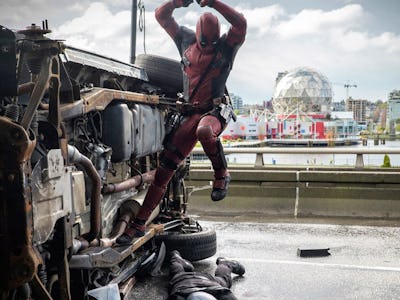 20th Century Fox
Marvel's snarky killer Deadpool has a lot to celebrate. The highly anticipated Deadpool starring Ryan Reynolds broke records for an R-rated superhero film, and its killer advertising has been nominated for a Clio Award for Best Integrated Marketing. In a five-minute video worthy of its own celebration, Deadpool sums up why he kicked ass.
"Whose balls did I have to fondle to get nominated for my very own key art?" Deadpool asks in the opening of the video. "I can't tell you, but it rhymes with 'Pulverine.'" Yeah, it's a recycled joke from his opening fourth wall-breaking monologue, but any jab against Wolverine is a good one.
In the video, Deadpool celebrates the "industry circle jerk" that allowed his campaign to flourish, from announcing the film's R-rating by killing Mario Lopez to debuting the trailer on the only TV-MA episode of Conan, featuring Reynolds in full costume giving the late night host a happy ending.
After that began the "12 Days of Deadpool" in which "Christmas came early … all over the internet's face." Starting on December 14, Deadpool content hit the web, from People to deviantART to Ryan Reynold's own social media pages. It culminated with a new trailer released on Christmas, which garnered "only" 90 million views.
While Deadpool billboards began popping up across the world, the smarmy assassin encouraged men to touch themselves … for testicular cancer, in conjunction with the UK charity Ballboys. "Because that bag of beans bouncing around in your hand could be trying to kill you."
With further efforts that included Betty White and "whoring out" to the press, Deadpool broke dozens of records for R-rated superhero movies and cemented February as a worthy month for blockbusters. With an international gross of more than $780 million worldwide, people learned to really love Deadpool. And he isn't shutting up about it.