As Trump Threatens to Pull FEMA, Puerto Ricans Describe a Nightmare Reality
"Without robust and consistent help, we will die."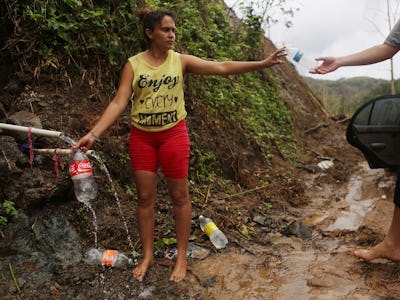 Getty Images / Mario Tama
On Thursday, President Donald Trump had a big morning pulling out of things. The U.S. announced its plan to withdraw from UNESCO by 2019, and in a series of aggressive tweets, the President also hinted that the government's aid to Puerto Rico could be coming to an end.
"'Puerto Rico survived the Hurricanes, now a financial crisis looms largely of their own making.' says Sharyl Attkisson," Trump said Thursday, referring to the journalist.
"We cannot keep FEMA, the Military & the First Responders, who have been amazing (under the most difficult circumstances) in P.R. forever!"
Following the comments, Puerto Ricans got online to tell the President that his job was not done on the island. Quite the opposite: his efforts up until now haven't even been adequate.
A vocal critic of the federal government's response thus far, San Juan Mayor Carmen Yulín Cruz wrote a public letter condemning Trump's latest comments. "Tweet away your hate to mask your administration's mishandling of this humanitarian crisis," she wrote. "Condemn us to a slow death of non-drinkable water, lack of food, lack of medicine while you keep others eager to help from reaching us since they face the impediment of the Jones Act."
At the end of the letter, she summed up the urgency of Puerto Rico's situation emphatically:
"Simply put: HELP US. WITHOUT ROBUST and CONSISTENT HELP WE WILL DIE."
A Reddit post from MisteryYourMamaMan that angrily describes the conditions in Puerto Rico was also trending on Thursday afternoon. The user, who had stopped on a highway with cell service to write the post, explained how dire things still were:
Our lives right now consist in planing trips to get water, since theres no running water in our homes. We're pitch black at night, at the mercy of thieves and people with bad thoughts since theres no electricity or cell phone signal.
Theres still people with no communication with the outside world because of road collapses, this means no access to food, clean water, meds, first aid, doctors, pampers, formula. They're on their own if FEMA pulls out.
Puerto Rico, by the Numbers
Statistics coming out of Puerto Rico back up these anxieties. It's been three weeks since Hurricane Maria devastated the island with flooding; knocking out power and destroying infrastructure in its wake. The government has officially said that 45 people have died as a result of the hurricane, but based on reports from Puerto Rican morgues, hospitals, and journalists on the ground, Vox estimates that another 450 deaths may have occurred on top of that number. The deaths would be a combination of those directly caused by the hurricane, those that are the result of a lack of access to health care following the hurricane, and a number of deaths that would have happened regardless.
According to a Department of Energy situation report released Wednesday, a mere 10.6 percent of Puerto Rico has power, leaving 1.4 million Americans in the dark.
The lack of access to clean drinking water in Puerto Rico also remains at near-sci-fi dystopian proportions. With over a third of water meters on the island still not working, people have become desperate. On Wednesday, the EPA had to release a statement warning Puerto Rican residents to abstain from breaking into Superfund toxic waste sites, following reports that desperate citizens were trying to obtain drinking water from water wells. CBS reported that four people have died from leptospirosis, a bacterial disease that spreads through contaminated water.
Even with FEMA present, the situation in Puerto Rico is not good. If they leave, things could go from bad to worse.
Must Read: Mark Zuckerberg's VR Trip to Puerto Rico Slammed as Totally Tone Deaf