Photo of San Juan Mayor Goes Viral as Trump Attacks Her on Twitter 
Carmen Yulin Cruz is leading rescue efforts in San Juan, Puerto Rico.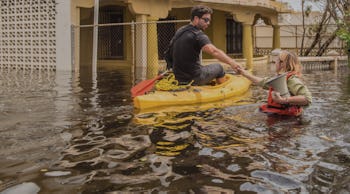 A photo of the mayor of San Juan wading through waste-high waters with a megaphone during rescue efforts following Hurricane Maria has gone viral, after President Donald Trump said she has shown "poor leadership" in dealing with the crisis.
The President, tweeting from his private golf club in Bedminster on Saturday morning, implied Carmen Yulin Cruz was ungrateful for the rescue efforts being conducted by the U.S. military and first responders in Puerto Rico.
The comments came following Cruz's plea for help during a news conference on Friday, where she criticized the Trump administration for spinning relief efforts in Puerto Rico to appear as more adequate than they actually have been. Puerto Rico's infrastructure has been destroyed following Hurricane Maria, and ten days after the storm tore through the territory, much of Puerto Rico is still without electricity, as residents struggle to get access to safe drinking water, food, fuel and medical supplies.
"I am begging, begging anyone that can hear us, to save us from dying," Cruz said Friday. "If anybody out there is listening to us, we are dying and you are killing us with the inefficiency and the bureaucracy."
Trump's tweets in response to Cruz's public frustration appeared to spin an issue of humanitarian relief to resemble yet another feud, and it left many people frustrated online Saturday morning. Tweeting from his private golf club didn't help the optics either.
At least 16 people have died so far in Puerto Rico following the hurricane, but that number is expected to climb if conditions do not improve in the territory.
An hour after his initial tweet, Trump announced that he will be visiting Puerto Rico on Tuesday. How he will work with the mayor of San Juan to improve conditions for Puerto Rican citizens remains to be seen.