Mark Zuckerberg's VR Trip to Puerto Rico Slammed as Totally Tone Deaf
Despite humanitarian intentions, Facebook CEO dragged as a "heartless billionaire."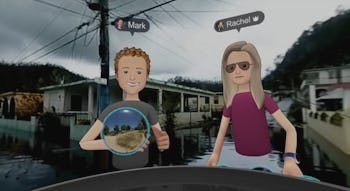 Facebook
Mark Zuckerberg has been slammed for a live virtual reality demonstration held on his Facebook page Monday, where an avatar of the Facebook CEO grinned in front of images of the Puerto Rican cleanup effort. The video sparked immediate backlash, with critics saying the post appeared tone deaf to Puerto Rico's current plight.
"One of the things that's really magical about virtual reality is you can get the feeling that you're really in a place," avatar Zuck said. The disaster-struck island served as a backdrop to his conversation with Rachel Franklin, head of social VR, with the pair laughing and high-fiving as they discussed the technology.
Although it wasn't the best look, the point was to announce, among other things, that Facebook is working with the American Red Cross to use AI-assisted maps to help local aid workers. The technology tracks how people move around during a disaster, helping aid workers get to them more efficiently. It's also activated Safety Check so residents can inform loved ones they're okay, and it's donated $1.5 million and sent employees to the island to help with the process.
But this was overshadowed somewhat by the pair's demonstration of Facebook Spaces, the virtual reality world, and the Oculus Rift headset it was running on.
"We're on a bridge here," Zuckerberg said. "It's flooded."
"This is the dumbest thing I've ever seen," Facebook user Cameron Thomas Stewart said in the video's comments section.
The demonstration was held in anticipation of a virtual reality conference hosted by Oculus in San Jose called Oculus Connect. Facebook bought the virtual reality firm three years ago for around $3 billion, and since then it's been working to demonstrate how the headsets can improve communication across the world. Facebook Spaces, which launched in beta form back in April, allows users to draw, teleport into other worlds, take selfies, and share videos.
"Is this a joke?" Facebook user Rosaida Castro said in the video's comments section. "The Puerto Ricans are suffering and you are using our tragedy for this?? Heartless billionaire."
Facebook was unavailable for comment at the time of writing.
Update 10/10 2:40 p.m. Eastern time — Facebook sent Inverse the following comment from Mark Zuckerberg:
One of the most powerful features of VR is empathy. My goal here was to show how VR can raise awareness and help us see what's happening in different parts of the world. I also wanted to share the news of our partnership with the Red Cross to help with the recovery. Reading some of the comments, I realize this wasn't clear, and I'm sorry to anyone this offended.