7 Important Characters Missing From the New 'Last Jedi' Trailer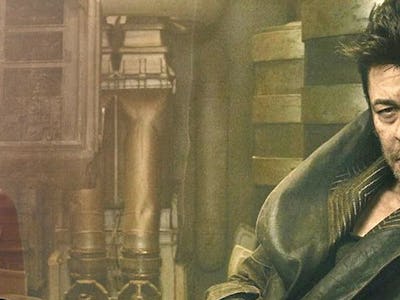 Lucasfilm
The newest trailer for Star Wars: The Last Jedi is a rip-roaring adventure that tears through fans' ideas of what's possible in a galaxy far, far away. Rey (Daisy Ridley) reveals herself to be just as powerful (and potentially dangerous) as Kylo Ren (Adam Driver) was when he first started out training under Luke Skywalker (Mark Hamill). This raw power terrifies Luke, who's all too happy to try and walk away.
And it seems like Rey turns to Kylo (and, by extension, Supreme Leader Snoke) for help.
Despite all this, there's a lot missing from the new trailer. Here are (at least) 7 characters who are curiously missing from the new Star Wars: The Last Jedi trailer.
7. Vice Admiral Amilyn Holdo commanding rebels around
Laura Dern is also similarly missing from the trailer. Admiral Holdo is pretty unknown at this point. Fans got a first official look back in May at her pink flapper hair and dope costume, but, otherwise, her role is pretty unknown. All we know is that she's somehow involved with the Resistance, and some fans think she might eventually take over for General Leia Organa.
6. Rose Tico
Rose Tico is set to team up with Finn (John Boyega) in Last Jedi to take on the glitzy casino planet of Canto Bight. Kelly Marie Tran will take on the role of the Resistance mechanic, a young woman who will probably end up being a badass if Star Wars' habit of finding heroes in the unlikeliest of places continues.
5. Paige Tico
Rose's sister, who will be portrayed by Veronica Ngo, is a new member of the Resistance who will at least be training with Poe Dameron (Oscar Isaac) to become a Resistance gunner.
4. More droid action
There's a brief shot of BB-8 taking on some harmful electric currents while battling it out in space (probably as Poe's copilot), but there's zero sign of C-3PO, R2-D2, or BB-8's emo counterpart, BB-9E. That means no C-3PO grumbling about his lot in life, no R2-D2 screaming as he narrowly misses death, and zero BB-9E being, uh, evil. Very disappointing, to say the least.
3. DJ being shady and badass
Benicio del Toro's character DJ has been the subject of a lot of conjecture amongst Star Wars fans. People have thought he's Rey's real father, Boba Fett's son, and an old foe of Han Solo. More accurately, DJ is a mysterious character of unclear allegiance, taking on the middle ground in a fictional world that's so often reduced to black and white.
2. General Hux
Seriously, where is Domhnall Gleeson's General Hux? He was everywhere in Star Wars: The Force Awakens, following Kylo Ren around like an irritable cat and screaming at Stormtroopers. Gleeson recently said he can't say whether or not he'll make it through to Star Wars: Episode IX, but that doesn't mean he can't be in the Last Jedi trailer.
1. Finn
Okay, so we got to see a little bit of Finn dressed to the nines in a snazzy gray suit and fighting Captain Phasma (Gwendoline Christie), but there is not nearly enough Finn in this new trailer. As one of the three main heroes of the new trilogy (aka the perfect trio of Rey, Finn, and Poe Dameron), Star Wars fans expected to see more of Finn, especially after he was injured so badly at the end of Force Awakens. The people are worried about him. I'm worried about him.
Star Wars: The Last Jedi premieres in theaters on December 15.
If you liked this article, check out this video about sex (or lack of) in Star Wars.