First Look at Laura Dern and Benicio Del Toro in 'The Last Jedi'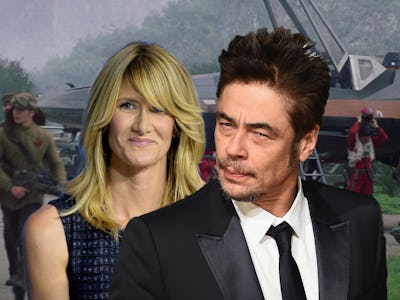 Getty Images/Disney
We've finally got a peek at what Laura Dern and Benicio del Toro's characters in The Last Jedi look like, and though fellow newcomer Kelly Marie Tran's Rose Tico will have the largest part of any rookie in the story, these two will also play important new roles.
The new images and information come from an extensive Vanity Fair cover story — the same issue that also teased cover photos of several main characters on May 23. Though details for Dern and Del Toro's characters are still sparse, it seems like both will be on the side of the Resistance in at least some capacity.
Vanity Fair teased the new characters with the following:
… a "shady character" of unclear allegiances, played by Benicio Del Toro, who goes unnamed in the film but is called DJ by the filmmakers ("You'll see — there's a reason why we call him DJ," Johnson said) … [and] a prominent officer in the Resistance named Vice Admiral Holdo, played by Laura Dern.
It would appear that inside sources reporting Dern's character as Admiral Holdo with a "flapper" style and pink hair were correct, along with the comparison to characters like Effie Trinket from The Hunger Games.
Rumors also previously indicated that Dern's character would be a high-ranking member of the Resistance, serving as something of a proxy Leia moving forward. Though that remains to be seen, it's looking ever more likely.
Confirmed details are still sparse regarding Benicio del Toro's mysterious "DJ," with speculation ranging all the way from him being Rey's father (incredibly unlikely, by the way) to him being Gannis Ducain, the guy who stole the Millennium Falcon from Han Solo sometime between Return of the Jedi and The Force Awakens (also increasingly unlikely).
Other rumors posited him as something of a Lando-esque space hustler, which could still hold to be true. All we know is that the mysterious man in black is definitely "shifty" and "shady" with his "unclear allegiances."
Star Wars: The Last Jedi will be released in theaters December 15.