'The Last Jedi' Toys Are Way Better Than 'Force Awakens' Toys
Snoke is crazy tall IRL, and everybody's getting their own ship.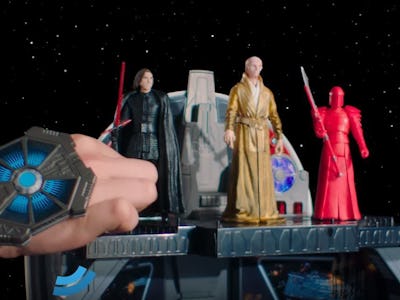 Hasbro
With Force Friday II only hours away, early responses to the many Star Wars toys from The Last Jedi are overwhelmingly positive. And that's because they're some of the coolest Star Wars toys in recent memory. There are new ships, new characters, new versions of old classics, and best of all, the triumphant return of the huge Star Wars transforming action playsets of yore.
If these toys are any indication, then we'll actually see Snoke in-person, and wearing a gold robe at some point in The Last Jedi. The First Order is also getting its own take on the BB-8 type of droid. Kylo Ren also gets his own badass customized TIE Fighter.
Hasbro, Lego, and Sphero are going all out, delivering some truly amazing toys for Star Wars fans of all ages to enjoy over the next few months while we all wait for The Last Jedi to hit theaters.
Here are some of the best toys releasing as part of Force Friday II:
Kylo Ren Tries to One-Up His Grandpa with the "TIE Silencer"
We didn't get to see anything of Kylo Ren's pilot skills in The Force Awakens, but in The Last Jedi he gets his very own customized TIE fighter that almost doesn't even look like a TIE at all. Hasbro's set includes Kylo Ren sans helmet and the new ship.
The "Silencer" is presumably a new high-tech variant on the traditional blocky ships. Will it have some stealth capabilities? Maybe, based on the name.
The A-Wing Fighter Returns and Pilots Can Breathe a Little
One of the biggest complaints about The Force Awakens standard action figures was that the helmets of the pilots (like Poe Dameron) weren't removable. That's been corrected now though. All the new pilot action figures can remove their helmets. This is also the first time there's been a new A-Wing fighter toy on shelves in a long, long time.
Hasbro's Force Link Band
Hasbro is offering a Force Link Band, that's essentially a bulky gauntlet that interacts with just about all of its The Last Jedi toys. In most cases, when a character figurine is placed near the band, the band itself will play one of several voice lines from the actual movie.
Most of these will probably wind up being generic, but it's possible that fans might be able to get the scoop on some key lines of dialogue. Don't expect Rey to say anything like, "So someone named Obi-Wan Kenobi is my father?"
Snoke's Throne Room
Fans of the OG trilogy and even the prequel trilogy no doubt remember the epic, huge transforming action playsets featuring prominent settings from the movies. Back in the '70s and '80s, big Star Wars playsets were actually big. It all started with the Death Star, but in 1980, when The Empire Strikes Back came out, Vader got his own big Star Destroyer playset. A big playset like this was also totally absent from the The Force Awakens toy line-up.
While Snoke's new Throne Room playset isn't an exact copy of this old-school toys, it certainly is more reminiscent of the kinds of Star Wars toys collectors crave.
Various sections of the station will interact directly with the Force Link Band, presumably providing a few lines of dialogue from the movie. Does that mean Kylo Ren will commune directly with Snoke in-person at one point?
The Best Artoo Toy Ever
Sphero, the same company that put out a really great remote-controlled BB-8 for The Force Awakens, has finally developed a scale model of R2-D2 that can be controlled via a smartphone app. It's pretty much the best IRL droid ever.
But the coolest thing that this Artoo can do is react in real-time when he watches Star Wars movies like Rogue One and The Force Awakens. Does that mean he'll spend most of Episode VII sleeping? Probably. Still cool though.
BB-9E is Evil BB-8
A highlight is a new droid, BB-9E, which is literally an Evil version of BB-8 that works for the First Order. Sphero also has their own version of this droid, which also has unique reactions when it watches any of the newer Star Wars films.
Greatest Lego Millennium Falcon Ever?
One of the largest and most complex lego sets ever is releasing as part of Force Friday II from lego, and it's an intricate 7,541-piece Millennium Falcon. Wow. Just wow.
Force Friday II kicks off September 1 and runs throughout the weekend in stores around the world, and Star Wars: The Last Jedi debuts in theaters December 15, 2017.