These Tweets Track Trump's Response to Every CEO Who Quit Council
One president's attempt to just tweet through it, chronicled.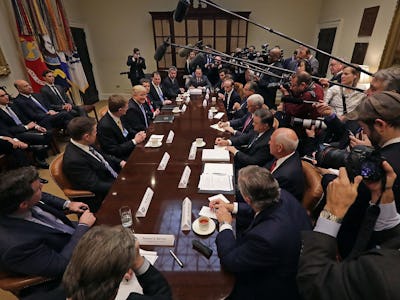 Getty Images / Chip Somodevilla
Like a boyfriend who dumps you right after you tell him, "we need to talk," Donald Trump disbanded two of his business advisory councils on Wednesday after a number of business leaders already announced their resignations. But the council's end was days in the making, with the president's Twitter timeline offering a realtime glimpse into its dissolution.
Trump's initial comments in the wake of the Charlottesville protests drew widespread criticism, as the president cited violence on "many sides" on Saturday rather than calling white supremacists out directly. Though Trump released a clarifying statement Monday, he doubled down on his position that the "alt-left" was also culpable on Tuesday. The response led to the rapid-fire departure announcements from CEOS that preceded Trump's dissolution of the advisory body on Wednesday.
Trump also dissolved the Strategy & Policy Forum, which shared many members with the Manufacturing Council. Disney CEO Bob Iger and former Uber CEO Travis Kalanick publicly withdrew from the Strategy & Policy Forum earlier this year. 
Inverse tracked the rapid meltdown of Trump's Manufacturing Council by matching each CEO's resignation tweet with what the president was tweeting about at the time. Trump did not respond directly to every resignation, but watching it unfold in real time offers a fascinating window into the Commander-in-Chief's attempt to just tweet through it.
1: Tesla and SpaceX CEO Elon Musk
Elon Musk is the only business leader on this list to have left the American Manufacturing Council prior to Trump's inflammatory Charlottesville statements. For Musk, the straw that broke the camel's back was Trump's decision to withdraw from the Paris Agreement in June.
Trump did not comment directly on Musk's departure, but did share a video of his announcement to withdraw from the agreement, and then his own catchphrase a few hours later.
2: Merck CEO Kenneth Frazier
Kenneth Frazier withdrew from the Manufacturing Council after Trump's initial comments about the violence in Charlottesville, during which he failed to call white supremacists out specifically.
Trump lashed out at Frazier less than an hour after Frazier announced his decision to leave the council, targeting Frazier and his industry, specifically with a jab at the inflated cost of pharmaceuticals.
He attacked Frazier again in the early evening before lambasting the media for not unequivocally accepting his second statement on the violence in Charlottesville.
3: Under Armour CEO Kevin Planck
Kevin Planck released a more diplomatic statement announcing his withdrawal later Monday evening, citing the need for Under Armour to focus its energy on "innovation and sports, not politics." Planck declined to call out specific actions or words from Trump that prompted this departure, which gives this announcement a distinctly corporate vibe.
Trump did not, apparently, feel the need to address Under Armour's withdrawal directly. Instead, the president retweeted a Fox & Friends article about North Korea, and then reaffirmed the fact that he does indeed live in America, the country he governs as president.
4: Intel CEO Brian Krzanich
On Monday night, Brian Krzanich dropped a blog post explaining his decision to withdraw from the Manufacturing Council which is a little extra, but at least his heart is in the right place. Krzanich cited his "abhorrence at the recent hate-spawned violence in Charlottesville" as the reason for his departure, and called on other industry leaders to decry that violence in a similar fashion.
Krzanich's withdrawal was the last announced before Trump dropped this doozy of a tweet after a morning spent promoting Luther Strange's campaign to retain his Alabama senate seat. JOBS!
5: Alliance for American Manufacturing President Scott Paul
Fifteen minutes after Trump assured his followers that many CEOs were lining up to join the Manufacturing Council, Scott Paul quit the Manufacturing Council.
Donald Trump did not respond to this resignation via Twitter, though it's possible his tweet 15 minutes before was in response to early word from Paul that he was leaving.
6: American Federation of Labor and Congress of Industrial Organizations President Richard Trumka and Deputy Chief of Staff Thea Lee
Richard Trumka Thea Lee of the labor organization AFL-CIO resigned from the Manufacturing Council Tuesday afternoon, citing both Trump's remarks regarding Charlottesville and the ineffectiveness of the council as an advisory body. Trump isn't really known for his listening abilities, so this disclosure was not a shocker.
Donald Trump did not respond to this resignation via Twitter either, but he did wake up early the next morning to get mad at Amazon.
7: 3M CEO Inge Thulin
Early Wednesday afternoon, Inge Thulin announced his departure from the Manufacturing Council on the grounds of "sustainability, diversity and inclusion."
Donald Trump did not respond directly to this resignation via Twitter, if only because there wasn't time before the next exit occurred.
8: Campbell Soup CEO Denise Morrison
After stirring controversy online for refusing to withdraw from the Manufacturing Council, Campbell Soup Company finally caved and Denise Morrison announced her resignation.
Trump announced the dissolution of the American Manufacturing Council and the Strategy & Policy Forum eighteen minutes later. He also retweeted this response to his tweet from Montgomery Assets CEO and self-described "Trumpenomics expert" Jacob Wohl.