In Second Speech, Donald Trump Calls Out KKK, Neo-Nazis by Name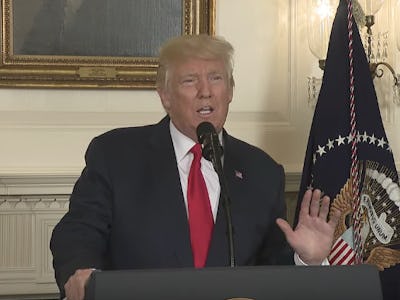 Youtube
More than 40 hours after a speech condemning the violence in Charlottesville, Virginia, wherein he did not place the blame at the feet of white supremacists, bigots, or the neo-Nazis responsible, President Donald Trump on Monday attempted to correct course by making a second speech at the White House, explicitly calling them out by name.
"To anyone who acted criminally in this weekend's racist violence, you will be held fully accountable," Trump said Monday.
"Racism is evil and those who cause violence in its name are criminals and thugs, including the KKK, neo-Nazis, white supremacists, and other hate groups that are repugnant to everything we hold dear as Americans," he continued.
The president was criticized on all sides for his comments on Saturday, which included a controversial "many sides" comment, implying that counter-protestors of the "Unite the Right" rally in Virginia were to blame for violence that included three deaths, including one at the hands of terrorist James Alex Fields, Jr., who drove his car into a crowd of people, killing Heather Heyer, a protestor of the white power rally.
There was "hatred, bigotry and violence on many sides," Trump said Saturday.
Trump's comments were characterized as "insufficient" on Saturday night. Before the election, "cultural anxiety" was one of the reasons listed as propelling Trump to the White House. On Saturday, the white supremacists marching were shouting, "Heil, Trump!"
On Sunday, comedian John Oliver took clear aim at Trump, succinctly putting it this way: By not calling out white supremacists for inciting the violence that transpired over the weekend, Trump was essentially saying that the Nazis were equivalent with, well, those who were there to oppose the Nazis. Which is insane.
"It's like a reverse Godwin's law. If you fail to mention Nazism, you lose the argument," Oliver said on Last Week Tonight.
Oliver went on to press the point that Trump's refusal to call out white supremacists is problematic for a number of reasons, one of which being that these radical factions have been vocal supporters of him from the get-go. Knowing that, not denouncing them looks especially bad. As Oliver put it, "Nazis are a lot like cats. If they like you, it's probably because you're feeding them."
Oliver really summed it up in one sentence. "A non answer, in a moment like this, is an answer."
Watch the clip below.