Charlottesville Attack: What We Know About James Alex Fields Jr.
The 20-year-old is charged with second degree murder.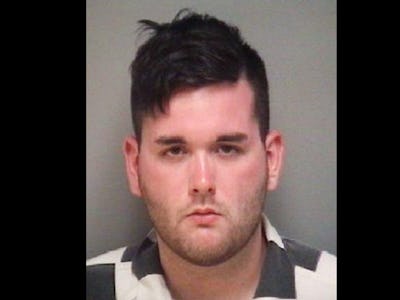 Albemarle Charlottesville Regional Jail
On Saturday, a gathering of neo-Nazis, KKK members, and white supremacists in Charlottesville, Virginia, lead to the death of Heather D. Heyer after a car plowed through a group of counter-protesters following the rally. Nineteen other people were also injured.
Shortly after the incident, James Alex Fields Jr. of Ohio was arrested and charged with second degree murder, three counts of malicious wounding, and one more count related to the incident. On Saturday, multiple media outlets began reporting that based on vehicle registration records, the car involved in the incident was registered to Fields.
According to the New York Times, Fields is 20 years old. He was born in Kenton, Kentucky, to Samantha Lea Bloom.
In a very painful video posted by the Associated Press Saturday, reporters broke the news of the attack to a woman who identifies herself as Fields' mother. She said she had no idea that Fields was interested in white supremacy but was aware that he was going to the rally, which she understood to have "something to do with Trump."
According to photos from the event, Fields appears to have congregated with Vanguard America during the protest, a "white supremacist group that opposes multiculturalism and believes America is an exclusively white nation," according to the Anti-Defamation League. As a racist and anti-Semitic group, they have made a focus out of engaging and indoctrinating young men.
Vanguard America denied Saturday night that Fields was a member.
According to the Washington Post, Fields has been described by family and acquaintances as quiet and often solitary. Speaking to the Post on the condition of anonymity, an uncle said that Fields' father was killed by a drunk driver five months before he was born.
Derek Weimer, a history teacher who said he taught Fields during his junior and senior years at Randall K. Cooper High School in Kentucky, told the Washington Post that when Fields was a student he wrote a paper that appeared to laude the Nazi military during World War II.
"It was obvious that he had this fascination with Nazism and a big idolatry of Adolf Hitler," Weimer said. "He had white supremacist views. He really believed in that stuff."
Fields's research project into the Nazi military was well written, Weimer said, but it appeared to be a "big lovefest for the German military and the Waffen-SS."
The "Unite the Right" rally, which was scheduled to take place Saturday in Charlottesville's Emancipation Park, quickly turned into chaos as activist groups such as Black Lives Matter and Antifa confronted white supremacists as they marched towards the park. While many counter-protesters and inter-faith groups demonstrated peacefully, violence did break out between white supremacists and some counter-protesters, resulting in multiple injuries. Within hours, officials declared the rally an "unlawful assembly," and a state of emergency was declared by the governor as police attempted to disperse people from the park. About two hours later, the car drove through a group of counter-protesters.
Charlottesville has become an ideological conflict zone since it decided to remove a statue of Confederate General Robert E. Lee from what was formerly known as Lee Park, now renamed to Emancipation Park.
Fields is currently being held without bail. He will be arraigned on Monday in Charlottesville General District Court.
Must Read: White Supremacists in Charlottesville Show Alt-Right's True Colors