Why the New Leaked iPhone 8 Footage Is Like Nothing We've Seen
Take it with a grain of salt, but Apple NEVER lets people see the production line.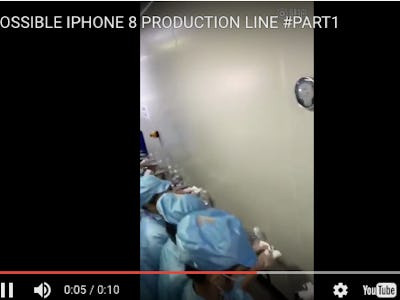 Two grainy videos, allegedly shot from inside the Chinese factory where Apple's partner company Foxconn manufactures iPhones, might show an inside look at the phonemaker's top-secret production line.
The two videos surfaced on the Chinese social media app Weibo on Monday and quickly made their way onto English-language blogs. Factory leaks before a new Apple product launch are pretty common — there's a 20-year-old student who specializes in them — but, as mobile electronics site BGR points out, the most interesting part of the latest leak is that it may show the actual production line at Foxconn.
Here's the first video, which shows workers wearing blue sterile caps polishing the outside of a phone's case with some kind of fluid.
As MacRumors notes, it's difficult to say for sure whether the shell is an iPhone 8, but it does appear to have a vertical camera setup, which is consistent with prior leaked information.
The second video is even stranger — it shows rows of phone cases hanging on racks, possibly drying after their polishing.
Brian Merchant, an editor at Vice's Motherboard, has gotten perhaps the most access into Foxconn's facilities of any journalist. While working on his book The One Device: The Secret History of the iPhone, Merchant toured the facility, which was rocked by a series of suicides between 2010 and 2013.
At the time, labor activists claimed that Foxconn was effectively running a sweatshop, pointing to harsh working conditions in the plant. In 2010, an Apple spokesperson said the company was "independently evaluating" Foxconn's plan to "address these tragic events" (i.e. stopping their workers from committing suicide) and would "continue ongoing inspections" of the facilities, but access to the manufacturer's Shenzhen-based facilities, and other plants around China, are still tightly controlled.
Since then, as BGR also notes, transparency at the facility has gotten slightly better, but it's still extremely rare to see actual production going on. Most leaks, like the mockup designs or the full-size dummy leak, are more sterilized, as parts or mock-ups make their way out of the facility and onto the internet. It would probably be a huge red flag for any worker to be filming inside the facility while their coworkers worked, so the most recent leak has got to be one of the most provocative for Apple's security team yet.