Bill Hader, Leslie Jones Stole the Show on SNL's Weekend Update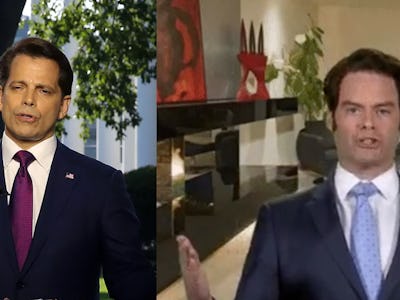 Getty Images / Mark Wilson and NBC/SNL
Hosts Colin Jost and Michael Che deftly satirized the news, but it was guest stars Bill Hader and Leslie Jones who stole the show on the summer edition of Saturday Night Live's popular "Weekend Update" segment on Thursday. They proved that the summer series will be just as buzzworthy as SNL's regular season.
When NBC announced that "Weekend Update: Summer Edition" would feature other SNL cast members, a burning question arose: Would we get to see Anthony Scaramucci? And who would play him? The slimy, loose-lipped businessman from Long Island makes for comedy gold; he was only part of the Trump administration for ten days, but this early edition of SNL allows an opportunity to parody the Mooch before he's forgotten.
Some fans expressed hopes that Scaramucci would be depicted by Bill Hader, who left SNL in 2013 after eight seasons. They were vindicated, and we got a memorable performance from Hader, who appeared by interrupting Michael Che with a "FaceTime call."
"By the by, I was completely misquoted," said Hader, referring to the Mooch's lewd conversation with reporter Ryan Lizza. "I didn't say that Bannon tried to 's' his own 'c.' He did it! I saw it! Tongue to tip!"
When the hosts said they wished Scaramucci had stuck around a little longer, Hader replied, "The Mooch has no regrets, baby! All I did was sell my company, miss the birth of my child, and ruin my entire reputation. All to be king of Idiot Mountain for eleven days."
The return of Hader, who is an SNL legend, will probably dominate the conversation around this episode. But Leslie Jones (playing herself and giving fitness advice) had even better comedic moments. Jones harassing Jost has become a regular "Weekend Update" bit, but rarely is it as funny as it was here. Jones made Jost kiss her flexed arm, then said, "I just showed you what's going to happen to you when you go to jail, Colin."
Kenan Thompson had a great cameo as basketball player and media personality LaVar Ball. Alex Moffat and Mikey Day revived their characters of Eric Trump and Donald Trump Jr., respectively. Moffat plays Eric as an amusing dolt; his wide-eyed bafflement at encountering a fidget spinner was brilliantly played.
The best host joke came from Che, who made fun of President Donald Trump's proposed merit-based restrictions on immigration by imagining the Statue of Liberty on Tinder.
"When did the Statue of Liberty get so bougie?" Che asked. "She used to be desperate, like, 'Send me your poor, your tired, anybody, I just need a man, lord.' Now she's on Tinder like, 'He's gotta be rich, and smart, and light-skinned, and 6'4".' I'm like, 'Bitch, you aren't China! You better swipe right on that day-laborer with a good personality!'"
There's just too much comedy-worthy news these days for "Weekend Update" to take a summer vacation. As Jost deadpanned, "It's been a crazy year these past few weeks."
"Weekend Update: Summer Edition" will return to NBC next Thursday at 9 p.m. Eastern.