SNL's "Weekend Update" Will Return for the Summer
It's badly needed right now.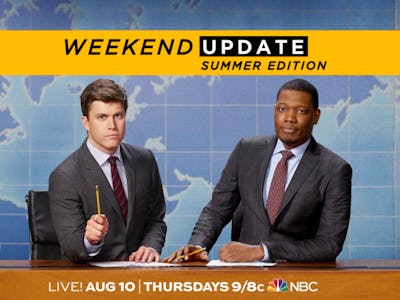 Saturday Night Live, NBC
Saturday Night Live's 42nd season — widely celebrated for its spoofs on members of the Trump administration — ended on May 20, and the next season won't begin until the fall, but political turmoil doesn't run on a television season cycle.
As such, NBC announced Monday that SNL's"Weekend Update" — the durable, mid-show fake-newscast that pre-dated The Daily Show with Jon Stewart —would come back for a late-summer special with co-hosts Colin Jost and Michael Che. Additional cast members are also expected to make appearances.
"SNL is having its best season in a quarter of a century — how many shows can say that?! — so we didn't want them to take the summer off," said Robert Greenblatt the chairman of NBC Entertainment.
Many comedy shows have seen an upsurge in viewership this year: The news seems to get more baffling every day, and people want the chance to laugh it off. (Why should John Oliver and The Daily Show hog the audiences?)
Colin Jost and Michael Che, who've hosted "Weekend Update" since 2014, will return for the segment's summer edition. They'll occasionally be joined by other SNL cast members, though we probably won't see the return of audience favorite characters like the chipper weather announcer "Dawn Lazarus" and secondhand news reporter Anthony Crispino, because longtime cast members Bobby Moynihan and Vanessa Bayer retired from SNL after last season.
Segments will last half an hour and will run on NBC on Thursdays at 9 p.m. Eastern.
The summer edition of "Weekend Update" will premiere on August 10.
A promotional video for the special appeared on the SNL YouTube page on Monday before being mysteriously pulled down. When it's added again, we'll add it here.