Spicy Reactions to Anthony Scaramucci's Expletive-Filled Interview  
"Today is the day that Scaramucci truly became communications director."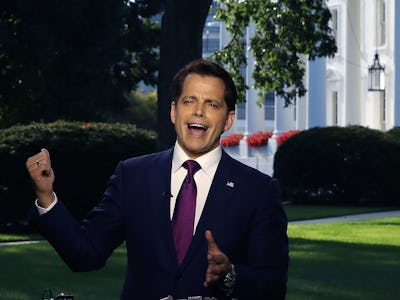 Getty Images / Mark Wilson
It's been six days since Anthony Scaramucci became the White House's new communications director, and he's just had his first public temper tantrum. What follows a conniption from someone working in the highest office in the land? Memes, of course.
On Wednesday evening, The New Yorker's Ryan Lizza tweeted that Scaramucci, President Donald Trump, Sean Hannity, and Bill Shine had dined together. Scaramucci called Lizza shortly after, demanding to know the name of his source.
Unfortunately for Scaramucci, he didn't ask that his conversation with Lizza be off the record. He became enraged about leakers and his colleagues in the White House, letting loose a vivid and increasingly creative stream of profanity — all on tape.
The next day, Lizza published an article in The New Yorker that was in large part just a transcription of their conversation. It's pretty unbelievable. Highlights include: "What I want to do is I want to fucking kill all the leakers," and "Reince is a fucking paranoid schizophrenic, a paranoiac."
And then, of course, there's the most memorable quote, which The New Yorker tweeted out:
The internet lost it. Both the article and The New Yorker's tweet were soon being passed around like wildfire, inspiring a host of hilarious commentary and memes:
Scaramucci responded with a single tweet on Thursday afternoon.
"I sometimes use colorful language," he wrote. "I will refrain in this arena but not give up the passionate fight for @realDonaldTrump's agenda. #MAGA"
Incoming press secretary Sarah Huckabee Sanders said that the White House will not release a statement in addition to Scaramucci's tweet.