How to Buy a Tesla Model 3
Order your Model 3 in minutes & receive it years later.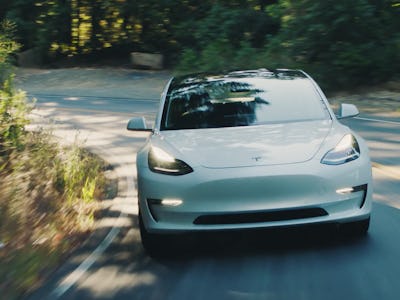 Tesla
The Tesla Model 3 has arrived. Elon Musk's newest electric vehicle, starting at $35,000, is the culmination of years of effort planning. Tesla has finally delivered on its promise of an entry-level product, nine years after the Roadster first hit the roads with a six-figure price tag.
But for most people, buying a Model 3 is a baffling mystery. Eager fans have scooped up reservation places, with nearly half a million orders waiting for the company to fulfill. Musk claims that new reservations placed now will be delivered late next year. By the end of this year, Tesla hopes to be producing 5,000 Model 3 vehicles a week, moving to 10,000 a week in 2018. Some 518,000 Model 3 vehicles were reserved.
"A frequent question I get asked…where is my Model 3? Sometimes not phrased quite as nicely," Musk said at the Model 3 event last month where he handed over the first 30 vehicles. "The thing that's gonna be the major challenge for us over the next six to nine months is how do we build a huge number of cars…frankly, we're gonna be in production hell."
The car is a futuristic slice of automotive history, and because anticipation is reaching fever pitch, newcomers will have to use the reservation systems to get their hands on one. Here's how you order a Tesla Model 3:
Place a reservation
Visit Tesla's main site and go to "Model 3" in the header. You'll see a reserve button. Visit the link and you'll see a reservation form to fill out. Put in your details and then click "Reserve your Model 3."
You'll have to place $1,000 deposit down to reserve your place, but you can cancel if you change your mind during step two:
Wait
The hard part. Tesla supplies reservation holders with a delivery estimate page, showing a breakdown of when they can expect to order particular configurations. You should be notified when it's time to start configuring your order.
Make your choice
So far, only Tesla employees have received invitations to fulfill their reservation, but based on leaked screenshots we have a sense of how the process works once you're called up. As production is a largely staggered affair, you'll have to choose whether to opt for an available vehicle or hold your place for a later configuration when Tesla starts deliveries.
While Tesla is currently shipping the long-range model with premium upgrades, the base model without battery upgrades isn't expected to start shipping until the fall. The dual motor all-wheel drive model has an even longer wait: these vehicles aren't expected until spring of 2018.
Beyond these dates, Musk has suggested that a performance-grade model may launch in the summer of 2018. For now, Tesla's marketing literature does not mention this car, so until it surfaces it's probably best to choose based on the ones on offer.
Configure your car
The fun part. Every Model 3 comes in solid black, but for an extra $1,000, you can choose to kit your car out in one of five alternative colors: red multi-coat, midnight silver, deep blue, pearl white multi-coat and silver.
You also get the choice between two different wheel configurations. While the 18-inch aero wheels will help with the car's aerodynamic drag to achieve greater range, the 19-inch sport wheels look cool. Unfortunately, the upgrade will set you back $1,500.
Make your Autopilot choice
Every Model 3 comes with the eight necessary cameras and sensors to support fully autonomous driving at a later date, and even the interior was designed with the feature in mind. It doesn't come free, though, and buyers will be asked whether they want to pay now to unlock the software upgrade or pay later.
The "Enhanced Autopilot" upgrade exists today. The feature either costs $5,000 when ordered alongside the car, or $6,000 if unlocked later. This will enable driving along a lane, self-parking at a destination, automatically changing lanes and transitioning from one freeway to another.
Much as Tesla may want you to think this will change soon, "Full Self-Driving Capability" does not exist today. For $3,000 alongside the car, or $4,000 when purchased later, your car will drive itself without any human intervention. The feature requires "Enhanced Autopilot," so depending on which features you order when, full autonomy could cost between $8,000 and $10,000 total. It's pretty cool, yes, but you are paying for a future upgrade. There could be delays, or you might choose to sell the car, or any number of circumstances.
Once you've made your decisions, click "Next."
Finalize payment details
The not-so-fun part. Tesla wants to know at this stage how you want to pay for your car of the future. Any state or federal rebates will be added on here, so it's a chance to see how much the car will cost in practice.
Once you hit "order," you're done! Tesla should notify you about when you can expect your order to arrive, but the hard part is over and you're now the owner of a brand new Tesla Model 3.