Elon Musk Previews Tesla Model 3 Launch Event, and It Looks Huge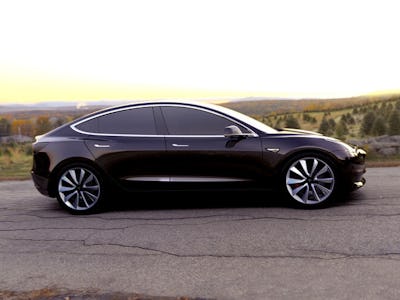 Elon Musk/Instagram
Elon Musk shared a preview of Tesla's Model 3 launch event on Friday, and it looks set to stun. The CEO is gearing up to hand over the initial batches of the electric car (base: $35,000) to a select few buyers at a "handover event," set to start at 7 p.m. Pacific time at the company's Fremont factory in California.
It's a big moment for the company. The Model 3 is by far the cheapest car Tesla has ever produced, severely undercutting the current-cheapest vehicle, the Model S, which starts at $68,000. The lower price is expected to boost demand: where Tesla currently makes fewer than 10,000 cars per month on average, the company is aiming to boost production to reach 10,000 cars per week at some point in 2018.
To reach this goal, Tesla is constructing a "Gigafactory" in the Nevada desert, and plans to announce three more factories sometime this year.
Watch the preview here:
The handover will see 30 customers receive one of the first Model 3 vehicles every produced, after the car entered production earlier this month. These aren't actually the first Model 3s, as the "serial number one" model was passed onto its owner on July 9. It is, however, a culmination of years of promise that Tesla could deliver an affordable electric car, a plan that first took its steps into action when the company's first vehicle, the $109,000 Roadster, hit the roads in 2008. Fan anticipation is reaching fever pitch, epitomized by reaction to Musk's preview video.
"Reminds me of Kennedy's space age speech," said Reddit user reefine. "Why did we choose to make the electric car? Not because it is easy but because it is hard. Because that goal will serve to save our planet from global warming. That challenge is the only one we are willing to accept. Cheers everyone on this glorious eve. Model 3 or bust!"
"This is quite an emotional moment," said Reddit user hey_ghis.
Over 400,000 customers have placed a deposit ($1,000 in the United States) to be among the first to receive a Model 3. Tesla's website currently advises newcomers that they may not receive their car until next year, owing to the giant backlog of orders. It's an impressive number, especially considering the fact that Tesla has yet to sell 200,000 cars in the U.S. Once sales reach that figure, though, federal subsidies will gradually phase out, increasing the cost to consumers.
At the handover event, fans are expecting to find out the last missing pieces of information ahead of launch. Musk has been vague on specifics, like how much optional extras will cost, and the $35,000 figure is only for the base model. Last year, Musk claimed the average sale price would come to approximately $42,000 as buyers add on extras.
A number of questions remain that details about extras should clarify. Tesla promises a minimum battery range of 215 miles, but Jeff Evanson, vice president of investor relations, claimed the Model 3 will start with battery sizes smaller than 60kWh. The base Model S, with a 75kWh battery, gets around 250 miles per charge. The new car has been designed to get more range from the same size battery, using an aerodynamic design and lightweight components, but how small a battery the company can achieve is not yet known.
The other question is how big a battery consumers can order for the Model 3. Musk has already confirmed the car does not have a wheel base wide enough for 100kWh, limiting options somewhat. The top-end 100kWh Model S is capable of reaching 315 miles per charge, so it will be interesting to see if Tesla can achieve a similar range on a smaller battery.
The fact the event is even taking place in July is impressive. Tesla's internal deadline to start production was July 1, but by Musk's own admission, it was an "impossible" deadline more aimed at holding manufacturers' feet to the fire to ensure parts were delivered on time. In the end, the car passed all regulatory checks two weeks sooner than expected.
The rapid production start bodes well for future expansion. Back in February, Tesla set itself the goal of producing 5,000 Model 3 vehicles per week by the end of the year. Earlier this month, Musk reiterated that goal, explaining that production would ramp up exponentially. In August, the company expects to produce 500 Model 3s, followed by 1,500 the following month, until reaching 20,000 per month in December.
Update 7/28: An earlier version of this story claimed the event was taking place at the Tesla Design Studio in Hawthorne. The event is taking place at the Fremont factory. The story has been updated.