One of the Flash's Major Allies Isn't Coming Back for Season 4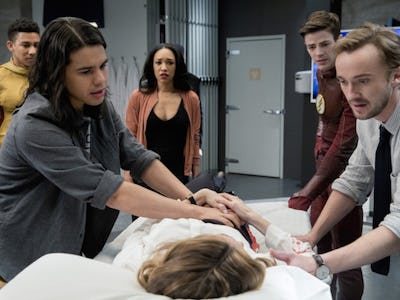 'The Flash'
It looks like Barry Allen won't be the only one missing from Team Flash when The Flash Season 4 kicks off this October: meta-human CSI specialist Julian Albert, as played by Tom Felton, won't be around in the new season.
After Barry Allen was forced to enter the Speed Force indefinitely at the end of Season 3, Julian was among the remaining members of the group that vowed to carry on and protect Central City — or so we thought.
Entertainment Weekly reports that Felton has not booked a return to the show after being a series regular in Season 3. Casting announcements for Season 4 came during SDCC, and Felton's name was entirely absent. Furthermore, the new season picks up six months after Barry's disappearance, and Felton's Julian Albert is MIA in the new Season 4 trailer released at San Diego Comic-Con.
Sure, Felton could return as Julian at some point this season, but nothing is certain.
Felton initially joined the show as an antagonistic co-worker of Barry's that appeared as a result of Flashpoint. He was later revealed as Doctor Alchemy, a brainwashed deputy villain to the big bad Savitar, before falling for Caitlin Snow and joining Team Flash for a stretch.
Perhaps Caitlin embracing her new identity as a "good" Killer Frost at the end of the season also led to Julian's departure from Central City, but we'll have to wait for the new season for any explanations.
Something to consider for The Flash Season 4: With both Barry and Julian MIA, who the hell is the CCPD's new CSI?
The Flash Season 4 kicks off October 10, 2017 at 8 p.m. Eastern.