Danny Trejo Will Star As Breacher on Season 4 of 'Flash'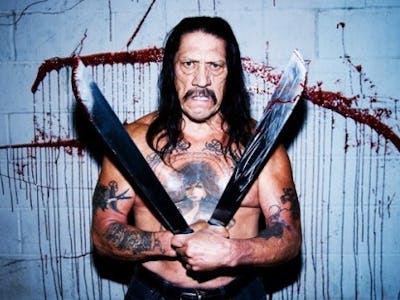 Sony Pictures
The Arrowverse SDCC panel was stacked with surprises on Saturday, including the reveal of the major villains of Season 4.
After pitting Barry Allen against an endless barrage of speedsters, the next season will pit the Fastest Man Alive against the Fastest Mind Alive: The Thinker aka Clifford Devoe, played by The 100 alum, Neil Sandilands. Joining Devoe will be his righthand the Mechanic, played by Kim Engelbrecht (Dominion, Eye in the Sky). An engineer brilliant enough to earn the respect of the Thinker, she's a true believer who will stop at nothing to help Devoe get what he wants: to fix an incredibly imperfect human race.
The genius metahuman will be joined by another ferocious villain, one much more familiar to fans because he's played by the iconic Danny Trejo (Machete, From Dusk Till Dawn, Sons of Anarchy). The Breacher, a bounty hunter from Earth-19 is the father of Gypsy (Jessica Camacho) which spells bad news for the beloved Cisco.
Expect ass-kicking, pithy one-liners, and a return to jokes according to EP Todd Helbing. "We wanted to change it up — a big thing this year is we're really trying to lighten the tone a little bit. Last year it got pretty dark and we want to get back to the jokes."
The good news in the face of all these villains hurtling Barry's way? He'll probably wrestle free of Speed Force sooner rather than later, although he'll pay the price for not abandoning Iris in the meantime.
Watch the Season 4 trailer below.