Todd McFarlane Announces 'Spawn' Film Reboot in Production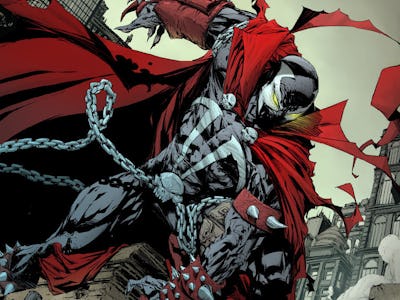 Image Comics
It's official, Spawn fans. On a Facebook live stream on Friday afternoon during San Diego Comic-Con, Todd McFarlane announced that "the ink is dry" on a deal with Blumhouse Productions, the indie company behind The Purge, Insidious, Split, Sleight, Get Out, and tons more, to produce McFarlane's R-rated Spawn reboot.
At Comic-Con, McFarlane flipped on his Facebook Live video with Kevin Smith (who is currently working on Sam and Twitch, a crime drama set in the Spawn universe, for BBC America) to announce Blumhouse as the official backers of Spawn. "We just signed [studio head Jason Blum] yesterday. The ink is just dry," McFarlane said. "We've gone theoretical. No more theoretical. We're now making movies. We're going. Jason! Blumhouse! Spawn! Badass! R! It's coming. Get ready for it. We're going into production."
McFarlane then closes his live video, saying, "No more talking, it's time to do."
An R-rated reboot of Spawn has been an ongoing project for McFarlane for some time. The Image Comics co-founder and creator of Spawn has openly talked about, and shown progress of, his script for an R-rated reboot of Spawn. McFarlane has said numerous times that his film will be more like an R-rated horror movie than a traditional superhero movie. To retain creative control, McFarlane has been aiming to work with a budget in the neighborhood of $10 million, a fraction of what all studio superhero movies work with today.
The new Spawn movie from Blumhouse will be the second movie to feature McFarlane's popular Image Comics anti-hero. The first Spawn film was released in 1997 from director Mark A.Z. Dippé and starred Michael Jai White (Arrow) as the titular character. With a budget of $40 million, the movie was a modest box office success but was received poorly by critics.
See McFarlane's announcement below.
There is no release date yet for Spawn.