Elon Musk Will Give an Update on SpaceX's Mars Transport at IAC 2017
It's going to be a doozy.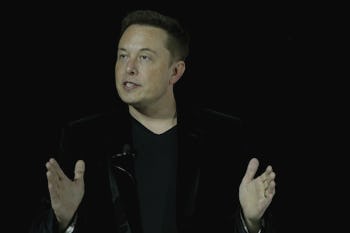 Getty Images / Justin Sullivan
SpaceX CEO Elon Musk provided quite a few new details about his company's future spaceflight plans at the 2017 ISS R&D conference in Washington, D.C. on Wednesday — including the lows odds of success for the upcoming Falcon Heavy inaugural launch and his enthusiasm for a moon base — but he managed to stop himself from delivering the real juicy news about how the company's designs for getting to Mars have changed in the last year. Instead, Musk is waiting till September, for the 2017 meeting of the International Astronautical Congress in Adelaide, Australia.
"I'm thinking probably the upcoming IAC in Adelaide might be a good opportunity to do an updated version of the Mars architecture," Musk told the audience. "It's evolved quite a bit since that last talk.
"I might ask for questions to be collected ahead of time," he said to laughs. "There were some very enthusiastic people to the mic at the IAC the last time." Musk is jokingly referring to the myriad people who used their few seconds during the presentation's Q&A portion to, among other things, express their fandom of Musk through very affectionate means, ask him to invest in their companies and/or comedy skits, and give Musk some comics.
During last year's IAC meeting, Musk stole the show by introducing the world to SpaceX's Interplanetary Transport System, a concept for establishing an affordable, sustainable infrastructure that can send a million people to Mars to help start and maintain a working colony on the red planet. So it makes sense that Musk wants to use the upcoming meeting to follow-up on that outline and illustrate the progress made on those plans.
The IAC will be going into its 68th annual meeting, but only recently has the event has found itself under such a bright spotlight. Much like how San Diego Comic Con has morphed from a relatively small convention geared toward comic books into one of the world's biggest entertainment industry events, IAC has grown tremendously from a meager meeting of space scientists and engineers, into a spectacle that attracts experts and amateur enthusiasts alike. Last year's meeting in Guadalajara, Mexico, was the biggest on record, and IAC organizers expect the Adelaide meeting to be even larger.
It's doubtful Musk's Adelaide presentation will be as much of a trip as his previous presentation was. Last year managed to deliver all the goods, including some quirky tidbits on what the name of the ship will be (a homage to Douglas Adams), why SpaceX only hires Americans, how he hopes people will eventually be able to basically trade in their homes for a trip to Mars, and more.
But back to Adelaide: Musk reiterated on Wednesday that affordability is key to making the ITS work, and that's what he and his colleagues have been trying to figure out. "If we downsize the Mars vehicle, make it capable of doing Earth-orbit activity as well as Mars activity, maybe we could pay for it by using it for Earth-orbit activity," he said. "That's one of the key elements of the new architecture.
"I think this one has a shot at being real, on the economic front."