A Year After Musk's Mars Show, IAC Plans Biggest Conference Ever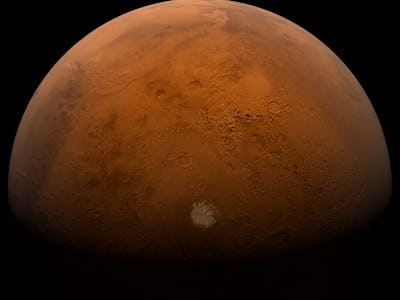 Flickr / Kevin M. Gill
It's hard to top SpaceX CEO Elon Musk outlining his plan to send the human species to Mars, but the International Astronautical Federation has something even bigger in mind for its next annual conference. The 68th annual International Astronautical Congress, taking place in Adelaide, South Australia, in September, is expected to be the largest conference the federation has ever held.
"I'm sure that we are going to break the previous record," federation president Jean-Yves Le Gall told an audience in Paris on Thursday, revealing that the organizers have already received 3,400 abstracts from groups in 78 different countries.
All eyes will be on Adelaide to see how the federation can top last year's awe-inspiring event in Guadalajara, Mexico, where Musk detailed how SpaceX could reach Mars using an Interplanetary Transport System.
Formerly known as the Mars Colonial Transporter, the system depends on creating propellant on Mars, refilling mid-orbit and reusing rockets and other architecture to bring transport prices down from $10 billion per person to just $200,000. The ultimate goal is to help set up the transportation infrastructure that will lead to a self-sustaining city on the red planet that can host nearly one million people:
As well as the first anniversary of Musk's grand plan, the Adelaide show will also mark a number of other occasions. It will be 60 years since the launch of Sputnik-1, the 50th anniversary of the outer space treaty that kept space accessible to humanity, and the 50th anniversary of the launch of Australia's first satellite.
The federation will review applications for the conference in the spring, and entrants are expected to receive letters by mid-April.
The record-breaking number of applications is also great news for Le Gall, who has been working on his "3G" diversity agenda since last September. Over a three-year period, the federation wants to increase diversity of participants in three key areas: geography, generation and gender. While geographical diversity has been a strong focus of the federation since its inception, and bringing in younger people has been a goal for the team in recent years, the federation admits it still needs to work harder to include more women in the federation's activities.
Even if Adelaide doesn't have the same headline-making pizazz as the previous year's event, it will have helped lay the groundwork for the next generation of space engineers. These are the ones who could be inspired to continue Musk's work, making the colonial transporter a reality and helping to establish a colony on Mars.