Women on the West Coast More Curious About Open Relationships
OKCupid data separates American men and women by how likely they are to try an open relationship.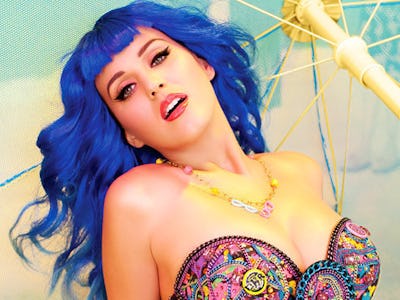 Capitol Records / Billboard
A new survey of Americans actively dating shows that women west of the Rockies are more likely to consider entering an open relationship. Though that may bring to mind the dancers in Katy Perry's old California Girls video, all hoping to date people in addition to their primary partners, the statistics published by OKCupid actually show the Pacific Northwest is where it's at — at least, as far as being down with O.P.P. goes.
In fact, women in Portland, Seattle, and even Salt Lake City (cue the Mormon fundamentalist jokes) showed an above-the-national-average interest in trying an open relationship when they answered questions on OKCupid. New York and Los Angeles, perhaps unsurprisingly, were the leading cities for non-monogamy with both men and women, but aside from the two big cities on America's coastlines, it was the great, wide American West that came out on top.
Women living in Nashville, Boston, and Houston, meanwhile, were less than half as likely as the men in their cities to consider an open relationship. Overall, openness is pretty rare, with only 1/3 of men across the country showing interest in an open relationship, and only 13% of women. The interest tanks in both the Midwest and American South, often perceived as the least progressive areas most tied to cultural traditions.
Of course, OKCupid can't present a full picture of the United States and polyamory or open relationships, though its data doesn't negate what other researchers have found. In 2016, a study published in the Journal of Sex and Marital Therapy found that 1 in 5 people in the United States had already been a part of an open relationship. That's different, of course, than asking all of those people whether they would try it again; OKCupid didn't specify in its questions whether the user had already been a part of one.
Another, smaller study in October 2016 found that among 1,000 Americans surveyed, nearly half of men and one-third of women said their ideal romantic relationship would involve conscious non-monogamy in some way. All they really said that was their ideal relationship wasn't "100% monogamous", so their actual preference is open for interpretation.
See also: 6 Questions People Should Ask Before They Try Polyamory and The Future of Sex is the Paradox of Choice