Here's the Bonkers 'Rick and Morty' Season 3 Trailer Song 
It's an incredibly fitting choice.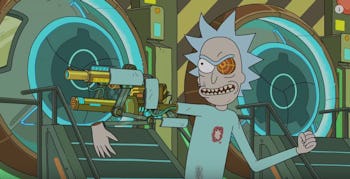 Adult Swim
Adult Swim's big Rick and Morty live stream on Thursday night was a crazy, hilarious, and largely improvised event. Series creators Dan Harmon and Justin Roiland wrote and acted out a new Rick and Morty episode on the fly, and they shared the highly anticipated news about when the show's third season would finally premiere (July 30). They also shared a trailer for Season 3, and it was bonkers. So, it makes sense that the song that accompanied the madcap action was bonkers as well — literally.
The track in the trailer is "Bonkers" a 2009 song by British rapper Dizzee Rascal and producer Armand Van Helden from Dizzee Rascal's album Tongue n' Cheek. The song charted very well in the UK, but didn't achieve the same success in the United States, so you'd be forgiven for not recognizing it if you heard it in the Rick and Morty trailer for the first time.
In addition to Rick and Morty, "Bonkers" was featured in the movie Kingsman: The Secret Service and Dizzee Rascal performed part of it during the opening ceremony for the 2012 Olympics in London.
It's really hard to overstate what a good choice this song was for the Rick and Morty trailer, which hints at a truly wild season. Get ready for all the bonkers action when it kicks off on Sunday, July 30 at 11:30 p.m. Eastern on Adult Swim. Here's that trailer again, because, why not?