Elon Musk Shows Off "Car Pod" Prototype for Transport Tunnel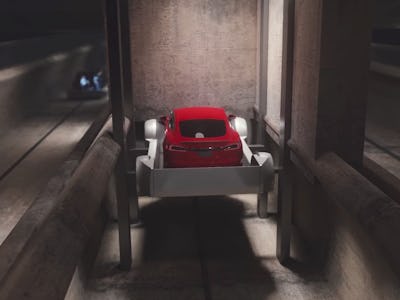 The Boring Company
One could be forgiven if back in January 2016 they thought Elon Musk's ideas about tunnels, offered to a bunch of college students, were hot air. The SpaceX and Tesla CEO has a lot of big ideas, but this one seemed too far-fetched even for him. Will he really try to build a 3D network of tunnels beneath the Earth in order to create new transportation routes and decongest highways? The answer, so far, continues to be yes.
"Just installed steel skeleton of the car/pod elevator. Should be operating next week," Musk announced Friday to his 9.63 million Twitter followers, pairing his comments with a video showing a framework of a box that would transport a car from the surface to the underground tunnel, just as was shown in a video released earlier this spring at the TED 2017 conference.
Here's the video posted by Musk:
And this video shows the beginnings of the tunnel:
And here's what the "car/pod elevator" could look like, as seen in the Boring Company video released at TED:
Musk's plan for the Boring Company is to literally bore — wink, wink —tunnels under the ground. Other than tweets, he's not done much talking about it, besides his lengthy interview at the TED conference in late April in Vancouver.
For anyone worried that Musk's attention is underground instead of on the streets with Tesla or the stars with SpaceX, he did note in that TED conference interview that the company — which recently completed the first section of its test tunnel beneath SpaceX's headquarters in Hawthorne, California — takes up "maybe 2 or 3 percent" of his time.
"This is basically interns and people doing it part-time," Musk said then. "We bought some second-hand machinery; it's kind of puttering along but it's making good progress."
That second-hand machinery will build a tunnel route that Musk hopes will run from Los Angeles International Airport to Culver City, Santa Monica, Westwood, and Sherman Oaks. Musk has said he wants his boring machine, named "Godot," to be part of a process that speeds up tunnel-digging by a factor of ten over traditional subway-digging processes. Part of that was designing Godot to do continuous digging and reinforcing of the tunnel walls, and beefing up the power of the machine.
Here's the full, visionary video by the Boring Company, as released back in April:
Back on January 30, 2016, Musk told those college students, the participants in the SpaceX-sponsored competition to design a hyperloop passenger pod, that tunnel-digging was easy.
"Build more tunnels," Musk said then. "Tunnels are great. It's just a hole in the ground," he deadpanned to laughs from students at Texas A&M University in College Station, Texas. "It's not that hard, but if you have tunnels in cities, it would massively alleviate congestion. You could have tunnels at all different levels, you could have 30 layers of tunnels and completely relieve the congestion problem in high-density cities. So, I highly suggest tunnels."
Seems like he's turning his suggestion into a reality.