Mika Brzezinski of 'Morning Joe' Tweets Cheerios to Trump 
The president unleashed a vulgar attack on the show's hosts on Twitter.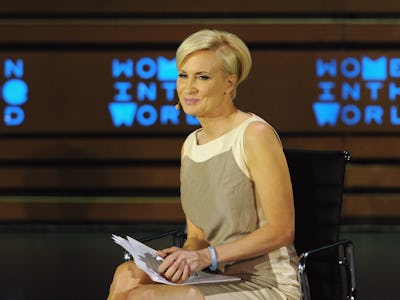 Getty Images / Andrew Toth
Mika Brzezinski, co-host of MSNBC's Morning Joe, threw some return fire at President Donald Trump on Twitter Thursday after he sent out a pair of insulting and sexist tweets directed at Brzezinski. In the tweets, Trump attacked both Brzezinski's appearance and her intelligence before claiming that he rejected her and co-host Joe Scarborough's requests to join him at Mar-a-Lago.
Wrote the president:
"I heard poorly rated @Morning_Joe speaks badly of me (don't watch anymore). Then how come low I.Q. Crazy Mika, along with Psycho Joe, came to Mar-a-Lago 3 nights in a row around New Year's Eve, and insisted on joining me. She was bleeding badly from a face-lift. I said no!"
The tweets came in at just before 9 a.m., right around the time that Thursday's episode was concluding — a fact which in itself rendered dubious Trump's claim that he no longer watches Morning Joe. Trump is also incorrect in calling the show "poorly rated"; Morning Joe's viewership has never been higher.
His tweets marked the second incidence of naked sexism from the president in as many days, coming on the heels of the emergence of a video showing Trump beckoning a female reporter over to comment on her appearance.
For her part, Brzezinski responded with a single tweet, depicting a box of Cheerios bearing the tagline, "Made for Little Hands."
It was a pointed reference to one of the most lasting — and effective — mockeries of President Trump. The joke began when Vanity Fair's editor, Graydon Carter, called Trump a "short-fingered vulgarian" in a 1988 issue of the legendary Spy Magazine, which he co-founded with Kurt Andersen. For years afterward, Trump mailed him photographs and circled his own hands in gold sharpie, which Carter has since described in Vanity Fair. The joke was resurrected by Florida Senator Marco Rubio during the Republican primaries and irked Trump so much that he felt the need to assert that "there's no problem" with his hands (or anything else) during the following debate.
The joke also later evolved into a full-blown meme in the form of "Tiny Trump."
Trump's latest Twitter rant also drew criticism from other politicians and journalists who found his comments offensive.
Morning Joe airs weekdays on MSNBC from 6 a.m. to 9 a.m. Eastern.