How Becky G Made the Yellow Ranger Grow Up
The pop singer and actress reveals how she brought the Yellow Ranger into 2017.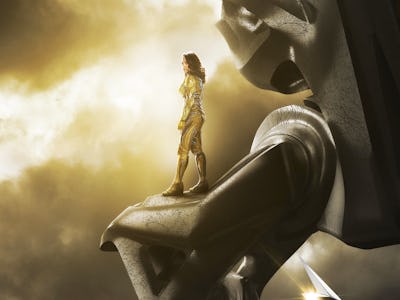 Lionsgate
Fans of the classic Mighty Morphin Power Rangers TV show fondly remember the fierce-but-friendly Trini Kwan, aka the Yellow Ranger, played by the late Thuy Trang. It was simple back then in Angel Grove, and the show provided kids watching at home with a fun, formulaic adventure each week. But when time came for the Power Rangers' big screen reboot, it was clear that the heroes had to be more complicated to match the modern day entertainment landscape. Pop singer Becky G (Empire) was cast as the Yellow Ranger, and was empowered to create a new, more sophisticated version of the character.
"We wanted to be able to grow and have creative freedom to be characters from the ground up," the actress tells Inverse. "Trini was so different than everyone was used to because there wasn't any boxes we had to put any of the characters in."
Dressed in flannel and suspicious of anyone who tries to be her "friend," Becky G's Trini is more reminiscent of Allison Reynolds in The Breakfast Club than the original Trini, who was everyone's best friend. "I felt like she kind of came off as mean sometimes," Becky G adds about her portrayal. "Not intentionally, but because she doesn't even know herself. So how could she be real with people?"
To promote the Blu-ray release of Power Rangers, Becky G dropped the Trini front and opened up to Inverse about her character's insecurities, her preparation, and what she made of the divisive response to her character's ambiguous queer identity.
What were your thoughts about Trini when you first read the script? Did your understanding of Trini change over time during filming?
It didn't change over time, my ideas just got bigger. I think her story is so real and so authentic and relevant to our generation — the weight she carries as far as finding out who she really is and embarking on this journey of self-discovery. I felt the way people received her was all I could ask for. I honestly didn't realize how big of a deal it would be, because to me, it should be that way. So it was exciting for me.
I understand the cast didn't get together to watch the original show. Was there any reason why?
I felt like that was a conscious decision to do so, because we wanted to take the magic we remembered as a kid and apply that than try to recreate something. We didn't want to get stuck in a specific mindset.
We didn't have to do so, but after we filmed the movie, I rewatched Mighty Morphin Power Rangers for the first time since I was a little kid. I felt so nostalgic, and there were so many things that reminded me of our movie. So it was awesome.
The campfire scene where the group opens up was highlighted by critics and fans for its raw emotion. Were there any special preparation done to film that scene?
[Director] Dean [Israelite] had us do a lot of team-building exercises, which, for me, I had never done before because it's my first movie. So doing these exercises brought us together more. It helped us set the tone going into scenes that carried a lot of weight. Especially my part, that scene meant so much to me, and although it's subtle, just knowing where it was coming from, I felt emotional. After we went in for my coverage, Dean yelled cut. I was crying already and I could not stop. Dean came to give me a hug.
The film generated some buzz when it was revealed Trini would identify as queer. But when some people saw the film, they expressed disappointment when Trini didn't fully come out. How do you feel about the response about Trini's coming out being a "cop out"?
I saw those comments as well. Everyone's entitled to feel the way they feel, and I can see the reasons why they think that. I want them to know that as far as the creative — me, Dean, John [Gatins, screenwriter] — it wasn't being ashamed or trying to tiptoe around it. It was how to make this authentic or genuine. This kind of coming out/not really coming out moment, it's because even Trini says, "I've never said any of this out loud before." That's the first step, because the truth is you don't just wake up and know. Even if you did, it would be something really scary and hard to talk about. And I feel like Trini is just now figuring that out.
It's funny because everyone's like, "We want Trini to have a girlfriend." And I'm thinking to myself, guys, there are so many other steps she would have to take before she gets there. When she has to tell her parents and her parents have to tell her family, how does everyone handle it? We did want it to be very subtle, but I felt like it was just enough, and it feels very real.
Did you talk to or hear anyone from the LGBTQ community about how Trini was portrayed? What did they tell you?
Yeah, from what I thought all of it was very positive. For me it was bittersweet that it was a big deal, because for me, like, what is the big deal? She is who she is. But then there's this other side that's like yeah, I want it to be a big deal. I want people to see that it's okay. Same with Billy's character and him being the first autistic superhero. My little brother is diagnosed with autism. It's such a good representation; it's good for people to see that and be able to identify with and connect with something, and know that, "I'm okay."
You didn't write or perform any music in the film. Would you be open to doing one for the sequel, if there is one?
Yeah, why not? I'm all for things happening like that as long as it's authentic. I feel like the style the film went into and the music they had was so perfect. I don't know how I would have fit in on any of that, but who knows if we do do a second film. Somewhere on my album I have a song that kind of does make sense with this storyline.
Saban's Power Rangers is available on Blu-ray and Digital HD now.
This interview has been edited for brevity and clarity.