How the Original G.L.O.W. Wrestlers Helped Shape the Netflix Hit
Former G.L.O.W. star Ursula Hayden ensured accuracy in the drama of Netflix's summer hit comedy.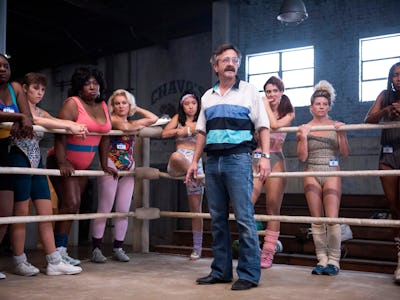 Netflix
Although the trailblazing women's wrestling league G.L.O.W. lasted less than five seasons, it was a bonafide cable TV hit and spawned a legion of fans. Now, the story of the 60-plus women who gave their blood, sweat, and tears to the show have been immortalized in the new comedy-drama series GLOW on Netflix, which turned to some of the original wrestlers to ensure its accuracy.
G.L.O.W. now exists as a nostalgia brand and is owned by Ursula Hayden, who wrestled in the league for two seasons as the seductive Babe the Farmer's Daughter. Hayden bought the rights to G.L.O.W. in 2001 and was involved in the Netflix series in several ways, including giving the creators a first-hand account of what it was like to live and work as a G.L.O.W. girl.
"I'm a consultant on the show," Hayden tells Inverse. "My job is basically meeting with the writers, [creators] Liz [Flahive] and Carly [Mensch] mostly. I help them with memorabilia, stories just like when I'm talking with you now."
Although Netflix's GLOW is fictionalized, many of its characters — and how they lived — were lifted from reality. Even with just a passing familiarity with the real G.L.O.W. (laid out by the 2012 documentary GLOW: The Story of the Gorgeous Ladies of Wrestling), it's not hard to draw comparisons between the Netflix characters and their real life counterparts.
While there was no real Ruth Wilder (Alison Brie), she was inspired by Lorilyn Palmer, who played the Communist menace Colonel Ninotchka. Meanwhile, actress Britney Young says she welcomes comparisons between her character Carmen and Emily Dole, the 5'10", 300-pound Samoan-American Olympian who became the fan-favorite Mount Fiji.
Young says that she felt "very drawn" to Dole and her passion for G.L.O.W. while watching the documentary. "That's something I was inspired by and tried to infuse," she says. "Carly [Mensch] never said you were going to be Mount Fiji 2.0, but if people want I would gladly take those comparisons."
There were also tidbits of day-to-day G.L.O.W. life that made it to the show, such as the talent living together and being forced to comply with a curfew, which resulted in a bizarro summer camp vibe. Although the women were legal adults, they had to obey the rules lest they face fines that could cost them hundred dollars. G.L.O.W. alum Dawn Maestas ("Godiva") defends the curfew, however, citing safety reasons. "You can't stay out until four in the morning and then get in the ring with somebody the next day and piledrive them," Maestas tells Inverse. "So we had to be well-rested and clear-headed."
But that still didn't stop Maestas and the other women from going out to party on the Las Vegas strip, where the show was shot. "We would sneak out all the time," she says laughing. "I was in my twenties and a little bit rebellious and ended up getting fined a lot for breaking curfew."
It's also indisputable that the Netflix show wouldn't exist without the 2012 documentary, which had heavy involvement from the real G.L.O.W. Directed by Houston filmmaker Brett Whitcomb, GLOW: The Story of the Gorgeous Ladies of Wrestling was made possible by Ursula Hayden's approval (who initially balked at the idea of a documentary) and ex-G.L.O.W. star Angelina Altishin, a.k.a. Little Egypt, who worked as a coordinating producer and arranged the film's emotional reunion. The film inspired creators Liz Flahive and Carly Mensch, who knew nothing about G.L.O.W. but were inspired by the story of strong women in a confusing decade of "sexual politics and the conservative swing," said Flahive in an interview with Variety.
"I hope if anything it helps people go back and look at the YouTube videos and kind of see where all this came from," Altishin tells Inverse about the renewed interest in G.L.O.W. "Because at this point, the next bridge to cross is the Pro Wrestling Hall of Fame, where we deserve to be. I think we're right on the cusp of that. I really do."
GLOW is now streaming on Netflix.