'Watchmen' TV Series May Still Happen, But With a New Director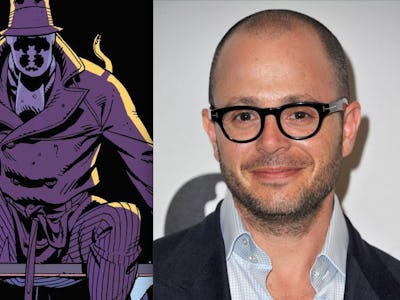 p.p1 {margin: 0.0px 0.0px 0.0px 0.0px; font: 12.0px Helvetica} Alan Moore, Dave Gibbons, John Higgins, & DC Comics, and Getty Images / Angela Weiss
It looks like the Watchmen TV series — teased in 2015 with Zack Snyder at the helm — may still happen, though with a new director: Damon Lindelof, known for co-creating Lost and The Leftovers.
The Hollywood Reporter reports that Lindelof is in talks for the project, which is "in the early development stages" and would air on HBO.
Lindelof hasn't signed a deal, so the show still isn't definite, but the process is moving: It seems that Zack Snyder has either been removed or turned it down (maybe directing the Watchmen feature film in 2009 was enough for him; fans deserve a new vision, anyway).
Alan Moore's Watchmen is one of the most popular DC comics series of all time and is known for inspiring the "Dark Age of Comics." It takes place in a conspiracy-ridden alternate version of 1985, in which —among other things — Richard Nixon is still president. The comic is so beloved that it's inspired a motion comic, a live-action film (from Snyder), and another forthcoming movie from Warner Bros.
Lindelof is apparently a huge fan. He's said that he read it voraciously when it was published in 1986 and told The Observer in 2009 that he was "obsessed" with it.
In the same interview, he indicated that he thinks that any adaptation of Watchmen should make the comic's existing fans its target audience.
"There's a little bit about that feeling of Watchmen, in terms of the fans, it's like, I don't really know if I want it to go mainstream," he said. "I want to keep it sort of insular. It's okay with me if people don't understand it because they don't deserve to understand it."
Maybe he's changed his opinion since 2009, but that attitude is sure to please diehard Watchmen fans (and is there any other kind of Watchmen fan?).
The HBO series has not been officially approved, so there is no currently release date.