How Carrie Fisher's Drug Addictions Defined Her Career
Why we shouldn't freak out about her autopsy.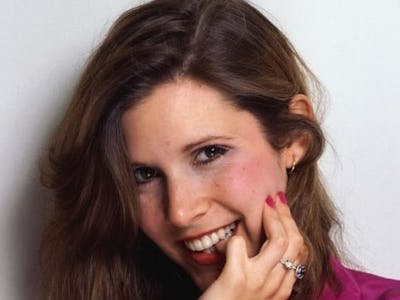 Carrie Fisher's autopsy has revealed the beloved actress and writer had traces of cocaine and other illegal drugs in her body when she died. And while this fact might be distressing to some, it should hardly come as a surprise. Fisher had a long, public struggle with various addictions.
On Monday, a report from Variety confirmed the presence of cocaine and other illegal drugs in Fisher's system at the time of her death. The report also points out that the cocaine in Fisher's body may not have directly been a factor in the cause of death. It is sad that drugs were likely involved in some way with Fisher's death — she is said to have died of sleep apnea — but the smartest writer to caution against taking illegal drugs is still Carrie Fisher herself.
Through her numerous memoirs and one-woman shows, Fisher revealed her various struggles with drug addictions and alcoholism. As she wrote in her final book — The Princess Diarist — "kidding yourself doesn't require a sense of humor." Fisher was an addict throughout her entire life, a fact which she explored and researched. "I used to think I was a drug addict, pure and simple - just someone who could not stop taking drugs wilfully. And I was that," Fisher wrote. "But it turns out that I am severely manic depressive."
This depression, and the drug use that followed, defined Fisher's artistic output for better or for worse. Her skills as an actress were certainly impacted by this, but her abilities as a writer were shaped by her depression, and subsequent addictions, too.
Carrie Fisher raised awareness about the link between depression and addiction for most of her adult life. The latest gossip as to what was in her bloodstream when she died shouldn't change this at all. We all know her death was tragic, and that in an ideal world she would have continued to give so much more.
So, we didn't need an autopsy to tell us Carrie Fisher struggled with drug addiction. Because the best person to tell us about the problems of drug use is still Carrie Fisher. If fans want comfort in this tricky time, maybe reach for one of Fisher's books. From Postcards from the Edge to Wishful Drinking, all of the answers to the pathos of Carrie Fisher are right there, honestly rendered by a passionate and painfully honest writer.