Here are the Tech Execs Set to Attend Today's White House Summit
The Trump administration wants to coordinate government and industry.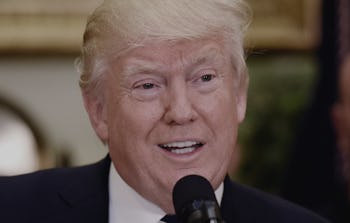 Getty Images / Pool
The biggest names in tech are set to visit the White House on Monday, as the American Technology Council gears up to host its first event. Created by President Donald Trump last month, the council is aimed at coordinating the administration and the tech industry on some of the country's biggest issues.
The administration has yet to release a full official list of attendees, but Bloomberg reported earlier this month that 11 companies have been invited to send representatives. A Reuters report on Monday claimed that figure was now nearly 20. The list of people reported as attending includes:
Apple CEO Tim Cook
Microsoft CEO Satya Nadella
Amazon CEO Jeff Bezos
Oracle co-CEO Safra Catz
IBM CEO Ginni Rometty
Alphabet executive chairman Eric Schmidt
Kleiner Perkins chairman John Doerr
Mastercard CEO Ajaypal Singh Banga
Intel CEO Brian Krzanich
Qualcomm CEO Steven Mollenkopf
Adobe Systems CEO Shantanu Narayen
The day will feature 10 working sessions, taking place over four hours, where attendees are invited to discuss a number of topics, including immigration policy, protecting the nation against cyber attacks, and making government infrastructure more efficient. Attendees have been given a 10-page agenda to bring them up to date on the day's sessions.
"There's a significant opportunity to take a much more holistic approach," Chris Liddell, former chief financial officer of Microsoft and the council's lead, told Wired.
The council, founded on May 1, intends to "transform and modernize" federal government. The administration hopes to save up to $1 trillion over the next 10 years through improving IT systems and making them more efficient. This modernization process started under the Obama administration, with the United States Digital Service launched after the healthcare website debacle to avoid a similar situation again. The new council is comprised of several senior government officials, and is set to be led by senior advisor Jared Kushner.
But the Trump administration has had a rocky relationship with the industry. Trump held a meeting in December with a number of tech CEOs. The event was organized by Trump transition official Peter Thiel as a way of improving relations. Unlike Thiel, many Silicon Valley heads expressed a preference for Hillary Clinton as president: Apple CEO Tim Cook was even suggested by Clinton's team as a possible choice for vice president.
Among the early proponents of cooperation with the Trump administration was Elon Musk, the Tesla and SpaceX CEO. Musk met with Trump every month through a series of business and economic advisory councils, but the pair's differing opinions on issues like climate change meant Musk had to vigorously defend the arrangement. This conflict came to a head when the administration announced its intention to withdraw from the Paris Agreement: Musk withdrew from the councils earlier this month.