Elon Musk Defends Spot on Trump Councils: "At Least Words Were Said"
Musk brought up concerns that "weren't on the agenda."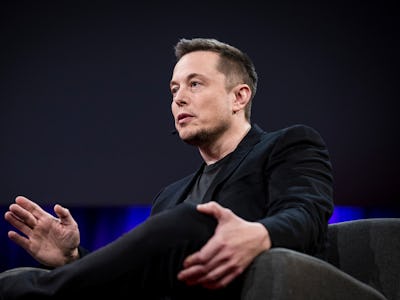 Elon Musk on Friday, appearing during the TED 2017 conference in Vancouver, discussed a wide variety of topics during a conversational panel, but he only got one about Donald Trump.
Musk's association with the statistically unpopular Trump — he's on two of the White House's CEO advisory councils — has made him a target of people who otherwise support the technologist's forward-thinking enterprises like clean energy, making humans a multi-planet species, and advancing artificial intelligence.
Musk described his role on and the format of those meetings like so: "I'm just on two advisory councils where the format consists of going around the room and asking people's opinion on things, and so there's like a meeting every month or two, that's the sum total of my contribution."
Two major differences Trump has with Musk are climate change (Trump says it's "Chinese hoax") and immigration (Musk is an immigrant from South Africa; Trump wants to build a wall at the Mexico border).
"I've used the meetings I've had thus far to argue in favor of immigration and in favor of climate change," Musk said. "If I hadn't done that … it wasn't on the agenda before.
"Maybe nothing will happen, but at least the words were said," Musk said, garnering applause from the audience.
In December, Musk met with Trump at Trump Tower in New York City. The two have a connection in Peter Thiel, the outspoken venture capitalist who founded PayPal with Musk and who also backed Trump during the campaign, even stumping for him on national TV during the Republican National Convention.
Musk has said before he's used the meetings and the access they give to the president as opportunities to voice his concerns, including his protest of Trump's Muslim ban.
It's possible that Trump — who talked a lot about infrastructure projects during his campaign, noting the immediate economic boost they bring to workers — may even one day look at one of Musk's ideas. In March, The Wall Street Journal, allowed to witness a meeting of Trump and his advisers, reported the Trump wanted more information on the hyperloop. In April, one of Trump's advisers touted the Boring Company on CNBC.