The LAPD Will Light the Bat-Signal to Honor Adam West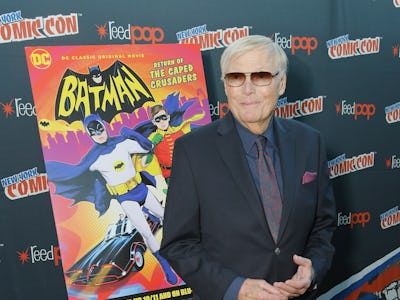 Getty Images / Mike Coppola
Holy tribute, Batman! On Thursday, at 9 p.m., the city of Los Angeles will shine a Bat-signal to pay homage to the late Adam West, who starred as Batman in the 1966 camp classic television series. The ceremony will be overseen by Mayor Eric Garcetti and Los Angeles Police Department Chief Charlie Beck, who will shine the signal from City Hall to illuminate the night sky with the emblem of the Caped Crusader. It will be open to the public, with fans far and wide invited to show up in cosplay and other accessories to honor the actor who passed away last Friday.
While the Bat-signal wasn't invented in West's TV show — it first appeared in the pages of Detective Comics #60 in 1942 — the phenomenon of the show helped solidify key aspects of Batman's lore, including the Batcave, Batmobile, and, uh, Bat shark repellant.
Batman originally aired for three seasons, broadcasting 120 episodes from 1966 to 1968 on ABC with a feature-length movie in 1966. It was executive produced and narrated by William Dozier, who envisioned the show as a pop-art comedy as opposed to the comics' detective noir nature. Hardcore fans resented this image of Batman for a few years, but since the early 2000s, renewed appreciation for the show emerged from critics and fans due to its all-ages appeal.
Although West was typecast after Batman, the actor later embraced his image as he played homages to himself, such as in an episode of the Emmy-winning Batman: The Animated Series in 1992 ("Beware the Gray Ghost"). In 2003, West reunited with his former castmates in the CBS TV movie Return to the Batcave: The Misadventures of Adam and Burt, in which West and his former co-star Burt Ward (who played Robin) track down the stolen Batmobile. In 2016, DC reunited much of the cast for the animated direct-to-DVD film Batman: Return of the Caped Crusaders. A sequel, Batman vs. Two-Face, with William Shatner as Two-Face, will be released later this year. (West finished recording his lines in October 2016.)
If you're in the L.A. area on Thursday, June 15, and would like to pay tribute to West, hit up City Hall with your old chums in your best Batman accessories. If you can't make it, the West family is encouraging donations to the Adam West Memorial Fund for St. Jude Children's Research Hospital.