What We Know, and Believe, About Season 6 of 'Arrow'
Helix, Vigilante, the return of Wild Dog and Black Canary, and more!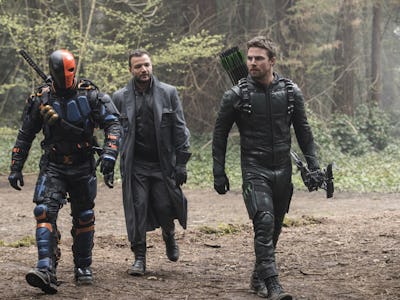 The CW
It's not quite time to return to Star City yet, but Arrow Season 6 will be here before you know it. In the fallout of the fifth season finale of the CW's cornerstone for the DC TV universe, Oliver Queen (Stephen Amell) rescued his son from Prometheus, Adrian Chase (Josh Segarra). But did the Green Arrow lose his Team Arrow comrades in the process? Maybe not all of them.
With Arrow Season 5 available now on Netflix, it's high time to binge what is easily the best season of the series in years, but its cliffhanger finale only leaves more questions than answers. Here is everything we know, so far, about Arrow Season 6. Also, spoilers for Arrow are below, duh.
Wild Dog and New Black Canary will return.
As of now, the very existence of Team Arrow is up in the air. Now that Prometheus has leveled Lian Yu with a bomb, it's a guessing game as to who will rejoin Oliver Queen in his crusade against crime next year. But Wild Dog (Rick Gonzalez) and the new Black Canary (Juliana Harkavy) will because both actors have signed contracts to come aboard Arrow as season regulars. So we can rest easy over Wild Dog and Black Canary.
But not Malcolm Merlyn.
Consider Lian Yu his swan song: Malcolm Merlyn, played by John Barrowman, is done with the Arrowverse for at least a year. After becoming the Dark Archer and subsequently the inheritor of the Ra's Al Ghul title, Merlyn joined the Legion of Doom for almost all of Legends of Tomorrow Season 2 before making his return to the Arrow finale. But Barrowman didn't sign on for next year, leaving him out of the universe entirely. He won't be back — for now.
Laurel Lance of Earth-2 will be the villain, maybe.
Another survivor of Lian Yu will be Katie Cassidy's Laurel Lance of Earth-2. The evil doppelganger to the Laurel fans knew and love will return to Arrow full time. Will she be friend or foe? (Probably foe, if we're placing bets.)
Will Slade return? "Joey" is a dangling thread.
Manu Bennett made a triumphant return to Arrow, reprising his Slade Wilson/Deathstroke to help out Oliver on Lian Yu. And he only did so in exchange for information about his son, Joey Slade.
Joey Slade was Oliver's alternate-future enemy in Legends of Tomorrow, but for now, Joey is just a tiny tot somewhere in the Arrowverse. Abruptly introduced, Joey Wilson is a dangling plot thread that should — and hopefully will — be resolved next season.
Also unresolved: Helix.
In Season 5, Felicity (Emily Bett Rickards) joined forces with Helix, a hacker group that in the comics is less "chaotic neutral" than they seem. In an interview with TVLine, producer Wendy Mericle said Helix — who at the end abandoned Star City — will return in Season 6. ""It'd be a great, sort of built-in story for Felicity to revisit these people, who are not very happy with her, let's be honest. We left that open-ended on purpose, for sure," Mericle told TVLine.
Wait, who was Vigilante?
In the comics, Adrian Chase moonlighted as the gun-toting superhero Vigilante. In Arrow, Vigilante appeared as a red herring to surprise viewers, as Prometheus unmasked himself to reveal his true identity as Adrian. And Prometheus killed Vigilante before the latter could unmask. This being a superhero universe, no one stays dead forever. With Vigilante still a mystery, hopefully, Arrow will finally give fans an answer next season.
Fewer flashbacks.
Another thing that won't return in Arrow is its famous flashbacks. Now that Oliver's five-year journey away from Star City has been explored, the show will only implement flashbacks when necessary, instead of framing the whole series with past events that parallel the present. And honestly, thank goodness. The structure was getting tiresome and has been running on fumes since Season 4.
A new night and time.
Inconsequential to Arrow, but the series is moving from its Wednesday time to Thursdays at 9 p.m., a day and hour later than it's been since the beginning. Things really are changing in Arrow, aren't they?
Arrow will return on October 12.