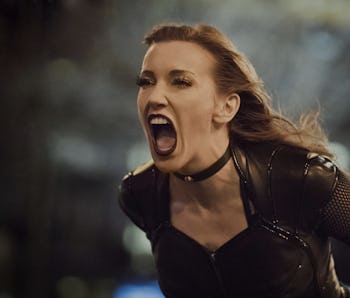 Entertainment
Black Siren Is Now a Series Regular on 'Arrow'
The CW
Laurel Lance may be gone forever, but her evil double will be sticking around on Arrow. Actress Katie Cassidy has signed on to play the evil Black Siren as a series regular for Arrow's sixth season, which is slated to premiere this fall on The CW. She may not be the Black Canary fans miss, but it's still good to have Laurel back.
Citing Cassidy's "fearless interpretation" of the character, showrunner Marc Guggenheim said the producers were compelled to keep her on. "[W]e knew her story was not yet finished," Guggenheim said in a statement. "We couldn't be more thrilled to welcome Katie back to Arrow as Black Siren." Cassidy will appear in the final two episodes of Arrow this season before having a regular presence for all of Season 6.
On Arrow, Katie Cassidy's Laurel Lance — who took on the superhero name Black Canary — was killed in the show's fourth season. A few weeks later, Cassidy guest starred on The Flash playing Black Siren, an evil version of Laurel who was a meta-human criminal from Earth-2. This season on Arrow, Prometheus recruited Earth-2 Laurel for a mission to emotionally devastate Oliver Queen (Stephen Amell). It worked, but the Green Arrow still managed to come out on top while Laurel was sent to A.R.G.U.S. custody.
The CW's press release did not reveal the circumstances of Cassidy's full-fledged return. She'll be reprising her role as Black Siren/Earth-2 Laurel, but will she join the team in an effort to turn over a new leaf? Laurel has already been "replaced" by a new Black Canary, Dinah Drake (played by Julia Harkavay). Will the two of them get along, or should Arrow fans prepare for another bird's funeral?
Arrow airs Wednesdays on The CW.