SpaceX Just Shared a Boring Photo with a Big Backstory
This rocket has seen things, man.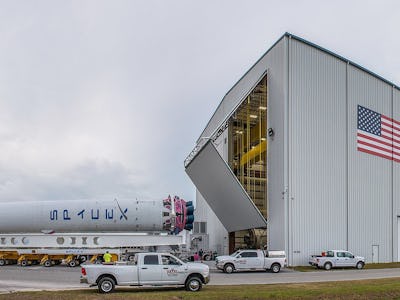 SpaceX
Making rockets reusable and fulfilling a "24-hour" directive from CEO Elon Musk is an ambitious goal for SpaceX, but what might have seemed like a phenomenal science fiction story a decade ago is quickly ramping up toward reality.
On Wednesday, the official SpaceX Twitter account shared a rather boring photo with the following caption.
Hours after CRS-11 lifted off, this flight-proven booster rolled into the hangar at 39A; targeting June 17 launch of BulgariaSat-1.
Yes, the "flight-proven" rocket you see going into the hangar in the photo below has already been to space and back, on January 14. It landed on the droneship Just Read the Instructions off the coast of California, after it had put the Iridium-1 telecommunications satellite into orbit.
So while the hangar was presumably rocket-less for a few days while the Falcon 9 involved with the CRS-11 mission was on the launchpad, it was soon filled again with this gently used booster.
And on June 17, five months and three days after the first launch, the same Falcon 9 will launch into space once again to put this communications satellite into orbit.
It will be the second time SpaceX has sent up a used Falcon 9 rocket booster. The first time was on March 30 of this year, when a Falcon 9 used on April 8, 2016 was re-flown, after being on the ground for 11 months and two weeks.
Historically, rockets are used only once, but they're spendy. The Falcon 9 costs $62 million to build. The cost refueling and maintenance, meanwhile, is a relatively paltry $200,000-$300,000 after each mission. Reusing the rocket — instead of building a new one — will cut the company's costs dramatically, and the savings are passed onto customers in government and private enterprise. Musk no doubt hopes all of this will lead to humans on Mars.
But during the near-term, Musk says he intends to hit that "24-hour goal" of landing and relaunching rockets in the same day.
To hit its most ambitious target, SpaceX will have to continue to launch (and relaunch) as many rockets as possible to find any problems with their reduce, reuse, recycle model and fix them — fast. Soon enough, Falcon 9 rockets — and other, bigger ones — built by SpaceX will be treated like the airplanes that fill our skies today.