SpaceX Rocket Lands on a Droneship in First Mission Since August
SpaceX staff breathes a collective sigh of relief.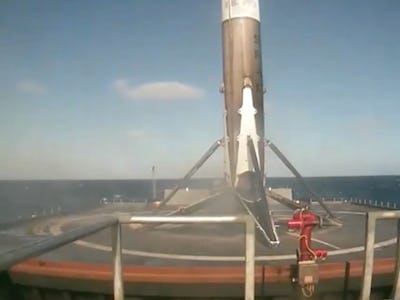 YouTube/SpaceX
Descending from the cloudless sky and touching down in a burst of flames and cloud of gas, the first-stage booster of SpaceX's Falcon 9 rocket landed safely on the droneship landing pad Just Read the Instructions (named for one of the starships in Iain M. Banks' novel The Player of Games) today at just after 10 a.m. Pacific time. You could almost hear Elon Musk unclench his jaw. This successful mission was a much- needed win for the private spaceflight company, whose last launch ended before it began. In September of 2016, one of SpaceX's Falcon 9 rockets exploded on the launchpad during a routine pre-launch test. This was a serious setback for a company that's been at the forefront of an industry effort to recover and reuse rockets instead of ditching them in the ocean, as had been the custom since the beginning of spaceflight. This landing today was the first successful one on Just Read the Instructions.
Today's launch and landing weren't just about getting to space and back, though. In addition to SpaceX's ongoing attempts to recover and reuse their rockets, the mission of this launch was to deploy ten Iridium Communications satellites.
The mission was the first of seven scheduled launches, creating a satellite communication network that will cover the entire globe. The satellites' successful deployment is important for SpaceX, especially in light of recent news that the company has suffered millions in financial losses since 2015. Today's success bodes well for SpaceX, as the company has bet heavily on these satellite contracts.
In addition to launching other companies' communications satellites, SpaceX plans to make its own internet-providing satellites a major source of revenue in the near future. According to financial documents obtained by The Wall Street Journal, the company projects that its internet business will eclipse its launch division in profitability, earning $30 billion in revenue by 2025, eventually helping to fund missions to Mars.
The live video was typically choppy, but here's a clip of the landing:
Watch the full webcast here: